accident

ac·ci·dent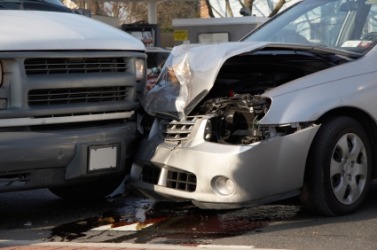 A car accident.
noun
The definition of an accident is an event that happens without being planned.

An example of an accident is a collision between two cars.
An example of an accident is when you bump into a friend unexpectedly at the park or when you find a $20 bill lying on the sidewalk.
---
accident
a happening that is not expected, foreseen, or intended
an unpleasant and unintended happening, sometimes resulting from negligence, that results in injury, loss, damage, etc.

a collision involving a motor vehicle
the wreckage, etc. at the scene of such a collision: watch out for the accident on the freeway overpass

fortune; chance: to meet by accident
an attribute or quality that is not essential
an irregular formation

Law

an unforeseen event that occurs without anyone's fault or negligence
Origin of accident
Middle English from Old French from Classical Latin
accidens
, present participle of
accidere
, to fall upon, happen from
ad-
, to +
cadere
, to fall: see case
---
accident
noun
a. An unexpected and undesirable event, especially one resulting in damage or harm: an accident on the assembly line; car accidents on icy roads.

b. An unforeseen event that is not the result of intention or has no apparent cause: A series of happy accidents led to his promotion.

c. An instance of involuntary urination or defecation.

Lack of intention; chance: ran into an old friend by accident.
Philosophy An attribute of a substance that is not essential to its nature.
Origin of accident
Middle English
chance event
from
Old French
from
Latin
accidēns
accident-
present participle of
accidere
to happen
ad-
ad-
cadere
to fall
; see
kad-
in Indo-European roots.
---
accident

Noun
(countable and uncountable, plural accidents)
An unexpected event with negative consequences occurring without the intention of the one suffering the consequences.

to die by an accident

Any chance event.
(uncountable) Chance.
(transport, vehicles) An unintended event such as a collision that causes damage or death.

There was a huge accident on I5 involving 15 automobiles.   My insurance is expensive now, mostly because of those two accidents.

Any property, fact, or relation that is the result of chance or is nonessential.

Beauty is an accident.

(euphemistic) An instance of incontinence.
(euphemistic) An unintended pregnancy.
(philosophy, logic) A quality or attribute in distinction from the substance, as sweetness, softness.
(geology) An irregular surface feature with no apparent cause.
(law) casus; such unforeseen, extraordinary, extraneous interference as is out of the range of ordinary calculation.
(military) An unplanned event that results in injury (including death) or occupational illness to person(s) and/or damage to property, exclusive of injury and/or damage caused by action of an enemy or hostile force.
(uncountable, philosophy, uncommon) Appearance, manifestation.
---
accident - Computer Definition
In risk management, any unanticipated or unpredictable event that may interfere with normal functions or cause logical or physical damage to data.
---
accident - Legal Definition
n
An unintended, unforeseen, and undesirable event, especially one that causes harm, injury, damage, or loss.
An unintended and unexpected event, especially one that is undesirable or harmful, that does not occur in the usual course of events under the circumstances in which it occurred, or that would not be reasonably anticipated.
In equity, an unexpected and injurious event not caused by misconduct, mistake, or negligence.
In many automobile insurance policies, any unintentional event including those caused by misconduct, mistake, or negligence.
unavoidable accident
An accident that is not caused by the negligence or other fault of anyone involved.
---