anchor

an·chor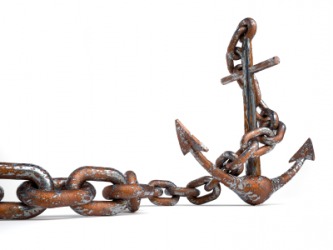 An old anchor.
noun
The definition of an anchor is a weight dropped into the water to stop the movement of a boat or other floating object.

A heavy weight connected to a ship by a chain is an example of a type of anchor.
verb
Anchor is defined as to fix or fasten.

An example of anchor is to secure a boat to the dock with rope.
---
anchor
a heavy object, usually a shaped iron weight with flukes, lowered by cable or chain to the bottom of a body of water to keep a vessel from drifting
any device that holds something else secure
anything that gives or seems to give stability or security
a person who anchors a team, newscast, etc.
a major retail store, corporate headquarters, etc. that stabilizes or stimulates the economic activity of the shopping center, office building, etc. where it is located
Origin of anchor
Middle English
anker
from Old English
ancor
from Classical Latin
anc(h)ora
from Classical Greek
ankyra
, an anchor, hook from Indo-European base an unverified form
ank-
, to bend from source ankle
designating the final leg, or stage, of a relay race
to keep from drifting, giving way, etc., by or as by an anchor
to serve as the end person for (a tug-of-war team)
to serve as the final contestant for (a relay team, bowling team, etc.)
to serve as coordinator of the various reports and as chief reporter for (a newscast)
to serve as an anchor for (a shopping center, etc.)
to lower the anchor overboard so as to keep from drifting
to be or become fixed
drop anchor
to lower the anchor overboard
to stay or settle (in a place)
drag anchor
to drift because of the failure of the anchor to hold
to lose ground; slip or fail
ride at anchor
to be anchored: said of ships
weigh anchor
to hoist a ship's anchor off the bottom preparatory to sailing
to leave; go away
---
anchor
noun
Nautical A heavy object attached to a vessel by a cable, rope, or chain and dropped into the water to keep the vessel in place either by its weight or by its flukes, which grip the bottom.
A rigid point of support, as for securing a rope.
A source of security or stability.

a. An athlete, usually the strongest member of a team, who performs the last stage of a relay race or other competition.

b. The person at the end of a tug-of-war team.

An anchorperson.
verb
an·chored, an·chor·ing, an·chors
verb
transitive
a. To secure (a vessel) with an anchor.

b.

To secure with a fastener or similar device:

bolts anchoring the deck to the house.

See Synonyms at

fasten

.

c. To cause to be fixed in place; fix or immobilize: fear anchoring him in the dark hallway; mussels anchoring themselves to a rock.

d. To cause to feel attached or secure: memories anchoring us to our home town.

e. To provide a basis for; establish or found: "innovative cuisines firmly anchored in tradition" ( Gourmet Magazine )

Sports To serve as an anchor for (a team or competition): anchor a relay race.
To narrate or coordinate (a newscast).
To provide or form an anchor store for: Two major stores anchor each end of the shopping mall.
verb
intransitive
Nautical To drop anchor or lie at anchor.
Origin of anchor
Middle English
anker, ancher
from
Old English
ancor
from
Latin
ancora, anchora
from
Greek
ankura
anchor
top to bottom: Danforth, admiralty, and stockless anchors
---
anchor

Noun
(plural anchors)
(nautical) A tool used to moor a vessel to the bottom of a sea or river to resist movement.

Formerly a vessel would differentiate amongst the anchors carried as waist anchor, best bower, bower, stream and kedge anchors, depending on purpose and, to a great extent, on mass and size of the anchor. Modern usage is storm anchor for the heaviest anchor with the longest rode, best bower or simply bower for the most commonly used anchor deployed from the bow, and stream or lunch hook for a small, light anchor used for temporary moorage and often deployed from the stern.

(nautical) The combined anchoring gear (anchor, rode, and fittings such as bitts, cat, and windlass.)
Any instrument serving a purpose like that of a ship's anchor, such as an arrangement of timber to hold a dam fast; a device to hold the end of a bridge cable etc.; or a device used in metalworking to hold the core of a mould in place.
(television) An anchorman or anchorwoman.
(athletics) The final runner in a relay race.
(economics) A superstore or other facility that serves as a focus to bring customers into an area.
(figuratively) That which gives stability or security.
(architecture) Carved work, somewhat resembling an anchor or arrowhead; part of the ornaments of certain mouldings. It is seen in the echinus, or egg-and-anchor (called also egg-and-dart, egg-and-tongue) ornament.
One of the calcareous spinules of certain holothurians, as in species of Synapta.
Verb
(third-person singular simple present anchors, present participle anchoring, simple past and past participle anchored)
To hold an object, especially a ship or a boat to a fixed point.
To cast anchor; to come to anchor.

Our ship (the captain) anchored in the stream.

To stop; to fix or rest.
To provide emotional stability for a person in distress.
To perform as an anchorman.
Origin
Middle English anker, Old English ancor, from Latin ancora, from (cognate with) Ancient Greek ἄγκυρα (ankura), from Proto-Indo-European *ang- ("corner, hirn"). The modern spelling is a sixteenth-century modification to better represent the Latin misspelling anchora.
---
anchor - Computer Definition
(1) See anchor tag.
(2) In desktop publishing, a format code that keeps a graphic near or next to a text paragraph. If text is added, causing the paragraph to move to a subsequent page, the graphic image is moved along with the anchor.
(3) In a GUI builder (development environment for creating a user interface), a format code that keeps a button, message or other interface control aligned to some part of the window. When the window is expanded, the corners of the control that are not anchored move with the window borders, but not the anchored corner. See user interface control.
---
anchor - Investment & Finance Definition
A term used by Federal Reserve Governor Edward M. Gramlich in January 2003 to say that U.S. monetary policy needed an anchor, or a long-term strategy. He said that a clear strategy would help the Federal Reserve react to economic problems such as a surge in unemployment without riling financial markets.
---