anvil

an·vil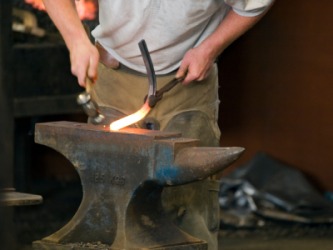 A man using an anvil.
noun
An anvil is defined as a block made of iron and used as a surface on which to hammer heated metals into desired shapes.

An example of someone who might use an anvil is a blacksmith.

The definition of an anvil is a non-moving portion of some tools used for measurement.

An example of a tool that has an anvil is a measuring gauge.
---
anvil
an iron or steel block on which metal objects are hammered into shape
the incus, one of the three bones of the middle ear
Origin of anvil
Middle English
anvelt
from Old English
anfilt
from
an
, on + an unverified form
filtan
, to hit, beat from Indo-European base an unverified form
pel-
, to beat from source (im)pel, felt
---
anvil
noun
a. A heavy block of iron or steel with a smooth, flat top on which metals are shaped by hammering.

b. Something resembling an anvil, as in shape or function.

The fixed jaw in a set of calipers against which an object to be measured is placed.
Anatomy See incus.
Origin of anvil
Middle English
anfilt
from
Old English; see
pel-
5
in Indo-European roots.
anvil
---
anvil

Noun
(plural anvils)
A heavy iron block used in the blacksmithing trade as a surface upon which metal can be struck and shaped.
Origin
Middle English anfilt, anvelt, from late Old English anfilte, anfealt, from earlier onfilti, from Proto-Germanic *anafeltaz (compare Middle Dutch anvilte, Low German Anfilts, Anefilt, Old High German anafalz), compound of *ana ("on") + *feltaz ("beaten") (compare German falzen ("to groove, fold, welt"), Swedish dialect filta ("to beat")), from Proto-Indo-European *pelh₂-t- ("shaken, beaten") (compare Irish lethar ("leather"), Latin pultō, pulsō ("to beat, strike"), Ancient Greek [script?] (pállein) 'to toss, brandish'), enlargement of Proto-Indo-European *pelh₂- ("to stir, move"). More at felon.
---
anvil - Computer Definition
A family of CADD/CAM software packages from MCS, Inc., Scottsdale, AZ (www.mcsaz.com). ANVIL products include 2D and 3D mechanical engineering systems for Windows. Founded in 1971, MCS was the first mechanical CAD company.
---