apple

ap·ple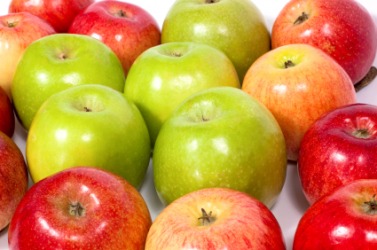 A group of different types of apples.
noun
The definition of an apple is a fruit that comes from a tree and can be green, red, or yellow.

An example of an apple is fruit that serves as filling for a pie around Thanksgiving.

Apple is a producer and manufacturer of technological equipment and software.

An example of Apple is the company that makes the iPod.
---
apple
a round, firm, fleshy, edible fruit with a green, yellow, or red skin and small seeds
any of the trees (genus Malus) of the rose family bearing this fruit, widely distributed in temperate regions
any of various plants bearing applelike fruits, or growths, as the May apple, love apple, etc.
[pl.]

Slang

a troublesome response, fact, or state of affairs: in such sarcastic or reproving phrases as how do you like them (or those) apples? and how about them (or those) apples?
Origin of apple
Middle English
appel
from Old English
æppel
, fruit, apple (also, eyeball, anything round); akin to Old Irish
aball
(Welsh
afall
), apple tree
compare apples and oranges
(to attempt to draw an analogy between) things regarded as not legitimately comparable
---
apple
noun
a. A cultivated deciduous tree ( Malus domestica or M. pumila ) in the rose family, native to Eurasia and having alternate simple leaves and white or pink flowers.

b. The firm, edible, usually rounded fruit of this tree.

a. Any of several other plants, especially those with fruits suggestive of the apple, such as the crabapple or custard apple.

b. The fruit of any of these plants.
Origin of apple
Middle English
appel
from
Old English
æppel
---
apple

Noun
(plural apples)
A common, round fruit produced by the tree Malus domestica, cultivated in temperate climates. [from 9th c.]
Any of various tree-borne fruits or vegetables especially considered as resembling an apple; also (with qualifying words) used to form the names of other specific fruits such as custard apple, thorn apple etc. [from 9th c.]
The fruit of the Tree of Knowledge, eaten by Adam and Eve according to post-Biblical Christian tradition; the forbidden fruit. [from 11th c.]
A tree of the genus Malus, especially one cultivated for its edible fruit; the apple tree. [from 15th c.]
The wood of the apple tree. [from 19th c.]
(in the plural, Cockney rhyming slang) Short for apples and pears, slang for stairs. [from 20th c.]
(informal) When smiling, the round, fleshy part of the cheeks between the eyes and the corners of the mouth.
Origin
From Middle English appel, from Old English æppel ("apple, any kind of fruit, fruit in general, apple of the eye, ball, anything round, bolus, pill"), from Proto-Germanic *aplaz ("apple") (compare Scots aipple, West Frisian apel, Dutch appel, German Apfel, Swedish äpple), from Proto-Indo-European *h₂ébl̥, *h₂ebōl (compare Irish úll, Lithuanian óbuolỹs, Russian яблоко (jábloko), possibly Ancient Greek ἄμπελος (ampelos, "vine")).
Proper noun
(with the) A nickname for New York City, usually "the Big Apple".
(trademark) A multimedia corporation (Apple Corps) and record company (Apple Records) founded by the Beatles.
(trademark) Name of the company Apple Inc., formerly Apple Computer, that produces computers and other digital devices.
(trademark) A computer produced by the company Apple Inc.
(rare) A female given name.
---
apple - Computer Definition
(Apple Inc., Cupertino, CA, www.apple.com) The world's second largest manufacturer of computers and consumer electronics with revenues of USD $184 billion in 2014 (Samsung was #1 by a small margin). Due primarily to the iPhone, Apple also became the most profitable company on the planet in 2014. Apple was founded in a garage on April Fool's Day 1976 by Steve Wozniak and Steve Jobs. Their first computer, the Apple 1, was introduced at the Palo Alto Homebrew Computer Club, and 10 retail stores were selling it by year-end. A year later, the Apple II was introduced, which blazed the trails for the personal computer industry. A fully assembled Apple II with 4K of RAM sold for USD $1,298. With an open architecture that encouraged third-party vendors to build plug-in hardware enhancements, Apple IIs became the most widely used computer in the home and classroom. They were also used in business primarily running the innovative VisiCalc spreadsheet software. In 1983, Apple introduced the Lisa, the forerunner of the Macintosh. Lisa was aimed at the corporate market, but was soon dropped in favor of the Mac. As a graphics-based machine, the Mac was successful as a low-cost desktop publishing system. Although praised for its ease of use, its slow speed, small monochrome screen and closed architecture did not excite corporate buyers. In 1987, the Mac II offered higher speed, larger screens that were in color and traditional cabinetry that accepted third-party add-in cards. Numerous models were offered and more widely accepted. In 1991, Apple surprised the industry by announcing an alliance with IBM to form several companies that would develop hardware and software together. All these eventually folded back into Apple and IBM, but the major product of the alliance was the PowerPC chip (see Apple-IBM alliance). In 1994, Apple came out with its first PowerPC-based Power Macs, which proved popular. Its PowerBook laptops were an instant success, and all subsequent models departed from the original Motorola 68K architecture to the PowerPC. The Mac stood alone in a sea of PCs based on the IBM architecture and watched its graphical interface copied more with each incarnation of Windows. In 1994, Apple licensed its OS to system vendors in order to create a Macintosh clone industry. However, a couple of years later, that was discontinued. In 1997, Apple acquired NeXT Computer, which brought Steve Jobs back to the company he founded and gave it a raft of object-oriented development tools, parts of which filtered down into the Mac OS X operating system. In 1998, Apple introduced the iMac, the first personal computer without a floppy disk. Self-contained in one unit like the original Mac, Apple sold 800,000 iMacs in a year, making it the fastest-selling computer in its history. In 2001, Apple launched the iPod. Followed several years later by the iPhone and iPad, Apple set the bar for mobile devices and grew exponentially as a result. See iPod, iPhone and iPad. In 2006, Apple switched the Mac to Intel chips, and combined with sleeker designs and continuous refinements, the Mac has gained market share ever since.
---