bean

bean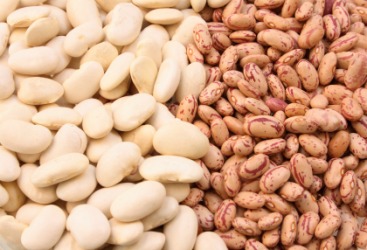 Two different types of beans.
noun
The definition of a bean is the edible seed of various plants.

Types of Beans

Phaseolus Vulgaris - All beans fit into this category. They are divided into subcategories based upon their color.

Frijoles Negro - Black beans.

Phaseolus Limensis - Lima beans.
Phaseolus Lunatus - Butter beans.
Vicia Faba Major - Horse beans.
Phaseolus Coccineus - Runner beans.
Glycine Max - Soy beans.
Phaseolus Acutifolius - Tepary beans.
Phaseolus Angularis - Adzuki or Azuki beans.

Chickpeas, lentils and limas are each an example of a bean.
---
bean
any of various leguminous plants; esp., any of several species of a genus (Phaseolus) of the pea family, including the kidney bean and lima bean
the edible, smooth, kidney-shaped seed of any of these plants
a pod with such seeds, eaten as a vegetable when still unripe
the bean-shaped seed of some other plants: coffee bean
any of these other plants: castor bean tree

Slang

the head, brain, or mind
[pl.]

Slang

even a small amount: used in negative constructions: not to know beans about something
Origin of bean
Middle English
ben
from Old English
bean
; akin to Old Norse
baun
, German
bohne
from uncertain or unknown; perhaps Indo-European an unverified form
bhabh?-
from source Classical Latin
faba,
bean
Slang

to hit on the head

Baseball

to hit (a batter) on the head with a pitched ball
full of beans
Slang
full of energy and vitality; lively
mistaken; in error
spill the beans
Informal
to divulge secret information
---
bean
noun
a. Any of various twining herbs of the genus Phaseolus in the pea family, native to the Americas, having leaves with three leaflets and variously colored flowers, and widely cultivated for their edible pods and seeds.

b. A seed or pod of any of these plants.

Any of several related plants or their seeds or pods, such as the adzuki bean, broad bean, or soybean.
Any of various other plants or their seeds or fruits, especially those suggestive of beans such as the coffee bean or vanilla bean.
Slang A person's head.
beans Slang A small amount: I don't know beans about investing.
Chiefly British A fellow; a chap.
transitive verb
beaned, bean·ing, beans
Slang
To hit (another) on the head with a thrown object, especially a pitched baseball.
Origin of bean
Middle English
ben
broad bean
from
Old English
bēan
; see
bha-bhā-
in Indo-European roots.
---
bean

---
bean - Computer Definition
---