bridge

bridge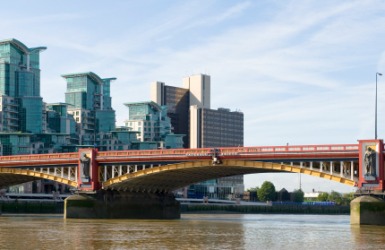 The Vauxhall Bridge in London.
noun
Bridge is defined as the bony upper part of your nose.

An example of the bridge of your nose is the place where your glasses rest on your nose.

The definition of a bridge is a structure connecting two sections of land so that people and vehicles can cross from one side to the other.

The Golden Gate bridge in San Francisco is a famous example of a bridge.
---
bridge
a structure built over a river, railroad, highway, etc. to provide a way across for vehicles or pedestrians
a thing that provides connection, contact, or transition: a common language is a bridge between cultures

the upper, bony part of the nose
the curved bow of a pair of eyeglasses fitting over the nose

a thin arched, usually wooden support on the belly of violins, lutes, guitars, etc. over which the strings are stretched
a similar support for the strings of a piano, harpsichord, etc.

an overhead framework across sets of railroad tracks, for carrying signals; gantry
a raised structure on a ship, usually in the forward part, from which it is controlled while underway
a dividing partition for keeping fuel in place in a furnace or boiler

Billiards

a position of the hand when it is functioning as a support and guide for the striking end of the cue
a device consisting of a long handle with a notched transverse piece at one end that functions similarly: used when the cue ball is positioned beyond the shooter's effective reach

Chem.

hydrogen bond

Dentistry

a fixed or removable mounting for a false tooth or teeth, attached to a real tooth or teeth

Elec.

a device used primarily in measuring resistances, frequencies, etc., by comparing the effect of the unknown element with that of known or standard elements in the circuit

Music

a connecting passage between two sections of a composition
Origin of bridge
Middle English
brigge
from Old English
brycge
from Indo-European base an unverified form
bhr?,
log, beam, hence wooden causeway
transitive verb
bridged

,

bridg′ing
to build a bridge on or over
to provide a bridge, connection, transition, etc. across or between
designating or of products priced between the least expensive and the premium: a bridge line
burn one's bridges (behind one)
to commit oneself to a course from which there is no retreat
any of various card games, for two pairs of players, that developed from whist; esp., contract bridge
Origin of bridge
from earlier (1886)
biritch
, so-called "Russian whist," altered after bridge; game and name uncertain or unknown; perhaps of Russian origin, originally
---
bridge
noun
A structure spanning and providing passage over a gap or barrier, such as a river or roadway.
Something resembling or analogous to this structure in form or function: a land bridge between the continents; a bridge of understanding between two countries.

a. The upper bony ridge of the human nose.

b. The part of a pair of eyeglasses that rests against this ridge.

A fixed or removable replacement for one or several but not all of the natural teeth, usually anchored at each end to a natural tooth.
Music

a. A thin, upright piece of wood in some stringed instruments that supports the strings above the soundboard.

b. A transitional passage connecting two subjects or movements.

Nautical A crosswise platform or enclosed area above the main deck of a ship from which the ship is controlled.
Games

a. A long stick with a notched plate at one end, used to steady the cue in billiards. Also called rest 1.

b. The hand used as a support to steady the cue.

Electricity

a. Any of various instruments for measuring or comparing the characteristics, such as impedance or inductance, of a conductor.

b. An electrical shunt.

Chemistry An intramolecular connection that spans atoms or groups of atoms.
transitive verb
bridged, bridg·ing, bridg·es
To build a bridge over.
To cross by or as if by a bridge.
Origin of bridge
Middle English
brigge
from
Old English
brycg
; see
bhrū-
in Indo-European roots.
Related Forms:
bridge1
top: Multnomah Falls, Columbia River Gorge, Oregon
bottom: on a violin
bridge
1
noun
Any of several card games derived from whist, usually played by four people in two partnerships, in which trump is determined by bidding and the hand opposite the declarer is played as a dummy.
Origin of bridge
From
earlier
biritch
(influenced by
bridge
1
)
from
Russian
birich
a call
from
Old Russian
birichĭ
---
bridge

Noun
(plural bridges)
A construction or natural feature that spans a divide.

The rope bridge crosses the river.

​(anatomy) The upper bony ridge of the human nose.

Rugby players often break the bridge of their noses.

(dentistry) A prosthesis replacing one or several adjacent teeth.

The dentist pulled out the decayed tooth and put in a bridge.

An arch or superstructure.

(nautical) An elevated platform above the upper deck of a mechanically propelled ship from which it is navigated and from which all activities on deck can be seen and controlled by the captain, etc; smaller ships have a wheelhouse, and sailing ships were controlled from a quarterdeck.

The first officer is on the bridge.

(music) The piece, on string instruments, that supports the strings from the sounding board.
(billiards, snooker, pool) A particular form of one hand placed on the table to support the cue when making a shot in cue sports.
(billiards, snooker, pool) A cue modified with a convex arch-shaped notched head attached to the narrow end, used to support a player's (shooter's) cue for extended or tedious shots. Also called a spider.
Anything supported at the ends and serving to keep some other thing from resting upon the object spanned, as in engraving, watchmaking, etc., or which forms a platform or staging over which something passes or is conveyed.

A connection, real or abstract.

(medicine) A rudimentary procedure before definite solution

ECMO is used as a bridge to surgery to stabilize the patient.

(computing) A device which connects two or more computer buses, typically in a transparent manner.

This chip is the bridge between the front-side bus and the I/O bus.

(communication) A system which connects two or more local area networks at layer 2.

The LAN bridge uses a spanning tree algorithm.

(chemistry) An intramolecular valence bond, atom or chain of atoms that connects two different parts of a molecule; the atoms so connected being bridgeheads.
(electronics) An unintended solder connection between two or more components or pins.
(music) A song contained within another song, often demarcated by meter, key, or melody.

The lyrics in the song's bridge inverted its meaning.

(diplomacy) A statement, such as an offer, that signals a possibility of accord.

(electronics) Any of several electrical devices that measure characteristics such as impedance and inductance by balancing different parts of a circuit
A low wall or vertical partition in the fire chamber of a furnace, for deflecting flame, etc.; a bridge wall.
A solid crust of undissolved salt in a water softener.
Verb
(third-person singular simple present bridges, present participle bridging, simple past and past participle bridged)
To be or make a bridge over something.

With enough cable, we can bridge this gorge.

To span as if with a bridge.

The two groups were able to bridge their differences.

(music) To transition from one piece or section of music to another without stopping.

We need to bridge that jam into "The Eleven".

(computing, communication) To connect two or more computer buses, networks etc. with a bridge.
(wrestling) To go to the bridge position.
Origin
From Middle English brigge, from Old English brycġ ("bridge"), from Proto-Germanic *brugjō, *brugjǭ ("bridge"), from Proto-Indo-European *bʰerw-, *bʰrēw- ("wooden flooring, decking, bridge"). Cognate with Scots brig, brigg, breeg ("bridge"), Saterland Frisian Brääch ("bridge"), West Frisian brêge ("bridge"), Dutch brug ("bridge"), German Brücke ("bridge"), Danish bro ("bridge") and brygge ("wharf"), Icelandic brú ("bridge") and brygga ("pier"), Gaulish bríva ("bridge"), Old Church Slavonic бръвъно (brŭvŭno, "beam") and Russian бревно (brevnó, "log").
The verb is from Middle English briggen, from Old English brycġian ("to bridge, make a causeway, pave"), derived from the noun. Cognate with Dutch bruggen ("to bridge"), Middle Low German bruggen ("to bridge"), Old High German bruccōn ("to bridge") (whence Modern German brücken).
Noun
(uncountable)
(card games) A card game played with four players playing as two teams of two players each.

Bidding is an essential element of the game bridge.
---
bridge - Computer Definition

A simple, protocol-specific device that interconnects two or more links in a circuit, reading the destination address of an incoming data frame and forwarding to the next link in the direction of the target device. A bridge also acts as a repeater, amplifying, reshaping, and retiming the input signal. A bridge does not perform complex processes on the data frames, and neither does it attempt to evaluate the network as a whole to make end-to-end routing decisions.
A simple, protocol-specific device that interconnects two or more segments in a local area network (LAN), or two or more LANs of the same architecture (e.g., Ethernet-to-Ethernet).A bridge reads the destination address of an incoming data frame and forwards it to the next segment in the direction of the target device. A bridge also acts as a repeater, amplifying, reshaping and retiming the input signal to extend the physical reach of the LAN. Bridges operate at the lower two layers of the OSI Reference Model, providing Physical Layer and Data Link Layer connectivity. Specific bridge protocols include source routing protocol (SRP), source routing transparent (SRT), spanning tree protocol (STP). See also architecture, circuit, Data Link Layer, encapsulating bridge, filtering bridge, frame, LAN, link, OSI Reference Model, Physical Layer, protocol, repeater, router, self-learning bridge, SRP, SRT, and STP.
---
(1) To cross from one circuit, channel or element over to another.
(2) See Wi-Fi bridge, wireless bridge and conference bridge.
(3) A device that connects two LAN segments together. Bridges are inserted into the network to keep traffic contained within the segments to improve performance. By monitoring which station acknowledged receipt of the address, bridges learn which nodes belong to the segment and maintain their own address tables. Multiport bridges have more than two ports and perform a switching function like a LAN switch. Bridges Vs. Routers Bridges work at the non-routable data link layer 2 and are not concerned with the network protocol (typically IP). Routers work at the routable layer 3 and inspect the network protocol. Since bridges do not have to glean routing information, they are faster than routers. A type of bridge that connects disparate networks, such as Ethernet and Token Ring, is called a bridge router. See LAN, transparent bridge, repeater, router, gateway and hub.
---