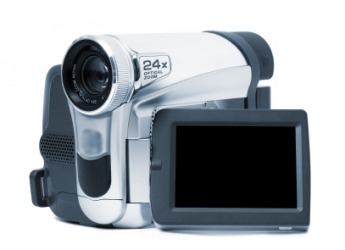 A camcorder.
noun
The definition of a camcorder is a videotape recorder and television camera.

A hand-held recorder that allows you to videotape your kids soccer match onto a tape and watch the replay of the video on the same device is an example of a camcorder.
---
camcorder
a handheld device for recording visual images and sound as on a videocassette
Origin of camcorder
cam(era) + (re)corder (noun)
---
camcorder
noun
A lightweight, handheld video camera, especially one that records data in digital form onto a storage device such as a videotape, DVD, or hard disk.
Origin of camcorder
cam(era)
(re)corder
---
camcorder

---
camcorder - Computer Definition
(CAMera reCORDER) A combination video camera, recorder and player in one unit. Prior to camcorders, the camera and magnetic tape recorder were separate devices cabled together. In 1983, Sony introduced the Betamovie, the first camcorder, which used half-inch analog Betamax videotape cassettes. However, the cassette had to be removed and inserted into a separate videotape player for viewing. Subsequently, camcorders were designed to play as well as record. Today, all video cameras are digital camcorders that record onto flash memory cards, DVDs, hard drives or tape cassettes. In addition, every modern smartphone is also a camcorder. See SD formats, HD formats, DTV and digital camera.
---