cat

CAT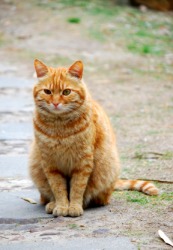 This cat is an orange tabby.
noun
The definition of a cat is any member of the family Felidae including lions, tigers and house cats.

An example of cat is Garfield.
---
cat
noun
pl.

cats

or
any of a family (Felidae) of carnivores, including the lion, tiger, cougar, etc., characterized by a lithe body and, in all species but the cheetah, retractile claws
a small, lithe, soft-furred animal (Felis cattus) of this family, domesticated since ancient times and often kept as a pet or for killing mice
a person regarded as being like a cat in some way, as in temperament; specif., a woman who makes spiteful remarks
cat-o'-nine-tails
a catfish
a catboat
tipcat
[C-] caterpillar (tractor)

Slang

a jazz musician or enthusiast
any person, esp. a man

Naut.

a tackle for hoisting an anchor to the cathead
Origin of cat
Middle English and OE, both from a general European root from Late Latin
cattus
; probably of African origin, originally
transitive verb
cat′ted

,

cat′ting
to hoist (an anchor) to the cathead
cat around
Slang
to search promiscuously for sexual partners; be promiscuous: said of a man
let the cat out of the bag
to let a secret be found out
CAT
---
cat
noun
a. A small domesticated carnivorous mammal (Felis catus), kept as a pet and as catcher of vermin, and existing in a variety of breeds.

b. Any of various other carnivorous mammals of the family Felidae, including the lion, tiger, leopard, and lynx.

Informal A woman who is regarded as spiteful.
Slang

a. A person, especially a man.

b. A player or devotee of jazz music.

A cat-o'-nine-tails.
A catfish.
Nautical

a. A cathead.

b. A device for raising an anchor to the cathead.

c. A catboat.

d. A catamaran.
verb
cat·ted, cat·ting, cats
verb
transitive
Nautical
To hoist an anchor to (the cathead).
verb
intransitive
Slang
To look for sexual partners; have an affair or affairs: "catting around with every lady in sight" ( Gore Vidal )
Origin of cat
Middle English
from
Old English
catt
from
Germanic
kattuz
Late Latin
cattus
Old Church Slavonic
kotŭka
all ultimately of unknown origin
Sense 6d, short for
catamaran
CAT
abbreviation
clear-air turbulence
computerized axial tomography
---
cat

---
.cat - Computer Definition

Pronounced dot cat. The generic Top Level Domain (gTLD) intended to support the Catalan linguistic and cultural community.This agreement is most unusual, as Catalan is spoken by less than 16 million people in the world and understood by less than 21 million. Catalan is the language of Catalonia in Spain, the city of Valencia, the Principality of Andorra, and other isolated cities, regions, and islands in Spain, France, Italy, and that general area of Europe.This domain was created in 2005 under the sponsorship of Fundaci
Cat
A set of structured cabling standards have been developed over time by standards bodies acting in various collaborations. The standards bodies are the American National Standards Institute (ANSI), Electronic Industries Alliance (EIA), Insulated Cable Engineers Association (ICEA), International Electrotechnical Commission (IEC), International Organization for Standardization (ISO), and Telecommunications Industry Association (TIA). EIA/TIA 568A, released in 1985, built on earlier work at AT&T, IBM, and other companies, and set the tone for formally standardization structured wiring standards.That standard subsequently was supplemented and improved as EIA/TIA 568B. It also was internationalized in 1995 as ISO/IEC 11801.The standards are known as Cat 1, Cat 2, Cat 3, Cat 4, Cat 5, Cat 6, and Cat 7, and are progressively more capable due to tighter tolerances on dimensions and different twist pitches. Table C-1 compares the various categories with gauge measurements stated in American Wire Gauge (AWG). See also ANSI, AWG, Cat 1-7, EIA, EIA/TIA-568, ICEA, IEC, ISO, ISO/IEC 11801, TIA, and twist pitch. Table C-1: Twisted-Pair Categories of Performance
| Cat | AWG | Rating | Typical Applications | Standards |
| --- | --- | --- | --- | --- |
| Cat 1 | Various | Unspecified; < 1 MHz | POTS, ISDN BRI, RS-232 & RS-422, low-speed data, speaker wire, alarm cable | ANSI/ICEA S-80-576 ANSI/ICEA S-91-661 |
| Cat 2 | 24 gauge | 1 MHz | 4 Mbps Token Ring LANs | ANSI/ICEA S-80-576 |
| Cat 3 | 24 gauge | 16 MHz | POTS, ISDN, T1, 10Base-T LAN | ANSI/ICEA S-91-661 ANSI/ICEA S-101-699 ANSI/TIA/EIA 568 ISO/IEC 11801 |
| Cat 4 | 24 gauge | 20 MHz | 16 Mbps Token Ring LAN | ANSI/TIA/EIA 568 ISO/IEC 11801 |
| Cat 5 | 24 gauge | 100 MHz | 10/100Base-T LAN | ANSI/ICEA S-91-661 ANSI/TIA/EIA 568 ISO/IEC 11801 |
| Cat 5e | 24 gauge | 100+ MHz | 10/100Base-T LAN, 155 Mbps ATM, 1000Base-T (Gigabit Ethernet, or GbE) | ANSI/ICEA S-91-661 ANSI/TIA/EIA 568 ISO/IEC 11801 |
| Cat 6 | 22­24 gauge | 250 MHz | 1000Base-T | ANSI/TIA/EIA 568 ISO/IEC 11801 |
| Cat 7 | 22­24 gauge | 600 MHz | 10 GbE | ANSI/TIA/EIA 568 ISO/IEC 11801 |
---
---