cloud

cloud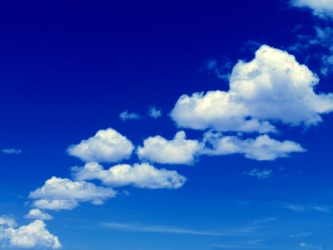 White clouds against a blue sky.
noun
The definition of a cloud is a visible mass of small water droplets or ice particles which are suspended in the sky.

Facts About Clouds

When a cloud forms in space, it is known as an interstellar cloud, or a nebula. Three components are necessary for clouds to form: water vapor, cool or cold air, and condensation nuclei. A white cloud means that the cloud was formed with warm air. A grey, or a black cloud, means that the cloud contains larger drops of water.

There are four main types of clouds:

Cumulus - the white and puffy clouds in the sky, generally under 7,000 feet in altitude. Made up almost entirely of water drops.
Stratus - the flatter clouds that stretch over greater lengths of distance in the sky, generally under 7,000 feet in altitude. Made up almost entirely of water drops.
Cirrus - clouds which are extremely high in the sky, generally over 18,000 feet, and are very thin and feathery looking. Composed primarily of ice crystals.
Cumulonimbus - clouds which go the highest of all clouds, up to 60,000 feet. They produce storms, thunder and lightening.

An example of a cloud is what makes the sky dark on a rainy day.

Cloud is defined as a mass of smoke, dust, steam or a mass of things suspended in the air.

An example of a cloud is what forms in the air just after a large explosion.
An example of a cloud is the formation of steam above a factory.
An example of a cloud is a large group of locusts traveling through the air.
verb
To cloud is defined as to darken, cover or make gloomy.

An example of to cloud is fog covering a view of the landscape.
---
cloud
a visible mass of tiny, condensed water droplets or ice crystals suspended in the atmosphere: clouds are commonly classified into four groups: A (high clouds above 6,096 m or 20,000 ft): cirrus, cirrostratus, cirrocumulus; B (intermediate clouds, 1,981 m to 6,096 m or 6,500 to 20,000 ft): altostratus, altocumulus; C (low clouds, below 1,981 m or 6,500 ft): stratus, stratocumulus, nimbostratus; D (clouds of great vertical continuity): cumulus, cumulonimbus
a mass of smoke, dust, steam, etc.
a great number of things close together and in motion: a cloud of locusts
an appearance of murkiness or dimness, as in a liquid
a dark marking, as in marble
anything that darkens, obscures, threatens, or makes gloomy
Origin of cloud
Middle English
cloude
,
clude
, origin, originally , mass of rock, hence, mass of cloud from Old English
clud
, mass of rock: for Indo-European base see climb
to cover or make dark as with clouds
to make muddy or foggy
to darken; obscure; threaten
to make gloomy or troubled
to cast slurs on; sully (a reputation, etc.)
to become cloudy
to become gloomy or troubled
have one's head in the clouds
to be impractical or fanciful
to engage in daydreaming
the cloud
the Internet considered as the medium for cloud computing
under a cloud
under suspicion of wrongdoing
in a depressed or troubled state of mind
---
cloud
noun
a. A visible body of very fine water droplets or ice particles suspended in the atmosphere at altitudes ranging up to several miles above sea level.

b. A mass of particles or droplets, as of dust, smoke, or steam, suspended in the atmosphere or existing in outer space.

a. A large moving body of things in the air or on the ground; a swarm: a cloud of locusts.

b. A collection of particles or other small entities: an electron cloud; a cloud of spores.

c. An opaque mass of particles suspended in water: a cloud of silt in the pond.

A dark region or blemish, as on a polished stone.
A state or cause of sadness, worry, or anger: At the bad news a cloud fell over the celebration.
A state or cause of confusion or misunderstanding: writing made difficult by a cloud of jargon.
A state or cause of suspicion or disgrace: A cloud of mistrust lingers among the signers of the treaty.

a. A large area of coordinated wireless internet service.

b. The collection of data and services available through the internet: stored company data in the cloud.
verb
cloud·ed, cloud·ing, clouds
verb
transitive
a. To cover or obscure with clouds: We could not see the moon because the sky was clouded over.

b. To make less clear or transparent: Smoke clouded the sky. Steam clouded the windows.

a. To make sorrowful, troubled, or angry: a bad memory that clouded his spirits.

b. To cause to appear sorrowful, troubled, or angry: Worry clouded her face.

a. To make difficult to know or understand; make obscure or uncertain: The economic downturn clouded the future of the project.

b. To confuse: Don't let your resentments cloud your judgment.

To cast aspersions on; sully: Scandal clouded the officer's reputation.
verb
intransitive
a. To become cloudy or overcast: The sky clouded over.

b. To become dark, obscure, or less transparent: The water in the tank clouded up.

To show sorrow, worry, or anger: His face clouded at the news.
Origin of cloud
Middle English
hill, cloud
from
Old English
clūd
rock, hill
Related Forms:
---
cloud

---
cloud - Computer Definition

A wide area network (WAN) commonly is depicted as a cloud, which serves to obscure its complex inner workings from view. Data just pops in on one side of the cloud and pops out on the other side, so to speak.
---
A communications network. The word "cloud" often refers to the Internet, and more precisely to some datacenter full of servers that is connected to the Internet. However, the term "cloud computing" refers to the software and services that have enabled the Internet cloud to become so prominent in everyday life (see cloud computing). See private cloud and personal cloud. A Cloud May Refer to Any Network A cloud can be a wide area network (WAN) like the public Internet or a private, national or global network. The term can also refer to a local area network (LAN) within an organization. For decades, network diagrams have used a cloud-like symbol to reduce the entire infrastructure of a network into simple entry and exit points when the specific network architecture is not material to the illustration. Inside the cloud, there may be any number of cables, routers and switches that handle the forwarding of data from one point to another. The cloud diagram may also include the servers that perform the required data processing.
---