crystal

crys·tal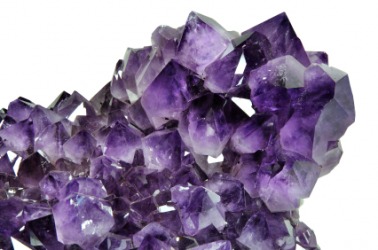 This amethyst is an example of a crystal.
adjective
The definition of crystal is clear or see through.

An example of crystal used as an adjective is the phrase "crystal lake" which means a lake where there is no garbage, pollution, etc. ruining the color or clarity of the water.
noun
Crystal is defined as a mineral that is generally made of transparent quartz in a shape of cubic symmetry or a glass that is clear, colorless and of high quality.

An example of a crystal is a piece of amethyst in its natural form.
An example of a crystal is an antique European wine glass with cut out ornamentation.
---
crystal
a clear, transparent mineral; esp., pure quartz
a piece of such quartz cut in the form of an ornament

a very clear, brilliant glass
articles made of this glass, such as goblets, bowls, or other ware

the transparent protective covering over the face of a watch
anything clear and transparent like crystal
a solidified form of a substance in which the atoms or molecules are arranged in a definite pattern that is repeated regularly in three dimensions: crystals tend to develop forms bounded by definitely oriented plane surfaces that are harmonious with their internal structures

a piezoelectric body or plate, as of quartz, used to control the frequency of an oscillator or as a circuit element in a crystal filter
a piezoelectric body used in a transducer, as in a crystal pickup or microphone
Origin of crystal
altered (modeled on L) from Middle English and Old French
cristal
, Old English
cristalla
from Classical Latin
crystallum
, crystal, ice from Classical Greek
krystallos
from
kryos
: see crude
of or composed of crystal
like crystal; clear or transparent

Radio

of or using a crystal
Crystal
a feminine name
Origin of Crystal
see crystal
---
crystal
noun
a. A homogenous solid formed by a repeating, three-dimensional pattern of atoms, ions, or molecules and having fixed distances between constituent parts.

b. The unit cell of such a pattern.

A mineral, especially a transparent form of quartz, having a crystalline structure, often characterized by external planar faces.

a. A natural or synthetic crystalline material having piezoelectric or semiconducting properties.

b. An electronic device containing such a material, as one that provides access to a radio frequency.

a. A high-quality, clear, colorless glass.

b. An object, especially a vessel or ornament, made of such glass.

c. Such objects considered as a group.

A clear glass or plastic protective cover for the face of a watch or clock.
Slang A stimulant drug, usually methamphetamine, in its powdered form.
adjective
Clear or transparent:
a crystal lake; the crystal clarity of their reasoning.
See Synonyms at
clear
.
Origin of crystal
Middle English
cristal
from
Old French
from
Latin
crystallum
from
Greek
krustallos
ice, crystal
; see
kreus-
in Indo-European roots.
crystal
Axes of symmetry in the seven main crystal systems are depicted using different colors. Within each crystal, axes having the same color are of equal length.
---
crystal

Noun
(countable and uncountable, plural crystals)
(countable) A solid composed of an array of atoms or molecules possessing long-range order and arranged in a pattern which is periodic in three dimensions.
(uncountable) A fine type of glassware, or the material used to make it.
(uncountable, slang) crystal meth: methamphetamine hydrochloride.
blood crystal
clear as crystal
compound crystal
crystal ball
crystal clear
Iceland crystal
liquid crystal
mountain crystal
rock crystal
Adjective
(not comparable)
Very clear.

"Do I make myself clear?" / "Crystal."
Origin
Old English cristal ("clear ice/mineral"), from Latin crystallum ("crystal, ice"), later reinforced from Anglo-Norman cristall, Middle French cristal, from Latin crystallum, from Ancient Greek κρύσταλλος (krustallos, "clear ice"), from κρύος (kruos, "frost"), from the Proto-Indo-European *krus-, *kru- ("hard, hard outer surface, crust").
Proper noun
A female given name.
---
crystal - Computer Definition
---