DNA

DNA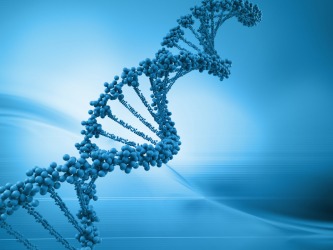 A DNA model.
abbreviation
DNA, which stands for deoxyribonucleic acid, is defined as a nucleic acid that contains the genetic code.

Facts About DNA

It is a long polymer that is composed of repeating nucleotides.
The largest DNA polymer that is known is about two hundred and twenty million base pairs long.
In 1869, the physician Friedrich Miescher first isolated DNA. While examining the substance of pus in surgical bandages, he observed a microscopic substance in the pus. He named it nuclein because he observed it in the nuclei of cells.
In 1928, Frederick Griffith realized that DNA might actually hold genetic information. In 1952, Alfred Hershey and Martha Chase performed an experiment which confirmed that DNA had a role in heredity.
In 1953, James D. Watson and Francis Crick proposed the idea that the DNA's structure was a double-helix.
It was not until scientists used x-ray technology that they were to finally able to see the structure of a DNA molecule. In 1953 Rosalind Franklin was the first to take the most accurate picture, which became known as photograph 51, that truly defined the structure of the double helix shape of DNA.
In 1962, the Nobel Peace Prize was given to James Watson, Francis Crick, and Maurice Wilkins (an associate of Franklin who had died by 1962.).

An example of DNA is the chain of basic materials in the chromosomes of the human cell.
---
DNA
a nucleic acid that is bound in double helical chains by hydrogen bonds between the bases, generally found in the chromosomes of the cell nucleus but also found in the mitochondria: it contains the genetic code and transmits the hereditary pattern
figuratively, basic nature or qualities; makeup, constitution, essence, etc.
Origin of DNA
d(eoxyribo)n(ucleic) a(cid)
---
DNA
noun
A nucleic acid that carries the genetic information in cells and some viruses, consisting of two long chains of nucleotides twisted into a double helix and joined by hydrogen bonds between the complementary bases adenine and thymine or cytosine and guanine. DNA sequences are replicated by the cell prior to cell division and may include genes, intergenic spacers, and regions that bind to regulatory proteins.
Origin of DNA
d(eoxyribo)n(ucleic) a(cid)
DNA
A. adenine
T. thymine
C. cytosine
G. guanine
---
dna

---
dna - Computer Definition
(1) See Windows DNA.
(2) (Digital Network Architecture) Introduced in 1978, it was Digital's umbrella term for its enterprise network architecture based on DECnet.
---