exit

ex·it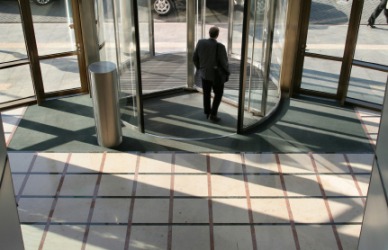 A man exits a building.
noun
The definition of an exit is a departure or a place for a departure.

An example of an exit is door to use to leave a building.
verb
Exit is defined as to leave or go out of.

An example of to exit is to walk out of a door.
---
exit
an actor's departure from the stage
a going out; departure
a way out; doorway or passage leading out
a ramp or road leading from an expressway
Origin of exit
Classical Latin
exitus
, origin, originally past participle of
exire
, to go out from
ex-
, out +
ire
, to go from Indo-European base an unverified form
ei-
from source year, Sanskrit
?mi
, Gothic
iddja
(I went)
Origin of exit

L, 3d pers. sing., pres. indic., of exire he (or she) leaves the stage: a direction in a play script
to leave; depart
to leave (a building, road, vehicle, etc.): she will exit the plane at Atlanta

Comput.

to finish using and close (a program)
---
exit
noun
The act of going away or out.
A passage or way out: an emergency exit in a theater; took the second exit on the throughway.
The departure of a performer from the stage.
Death.
verb
ex·it·ed, ex·it·ing, ex·its
verb
intransitive
To make one's exit; depart.
verb
transitive
To go out of; leave: exited the plane through a rear door.
Computers To terminate the execution of (an application): exited the subroutine.
Origin of exit
From
Latin
third person sing. of
exīre
to go out
ex-
ex-
īre
to go
; see
ei-
in Indo-European roots.
N., sense 2, from
Latin
exitus
from
past participle of
exīre
---
exit

Noun
(plural exits)
A way out.

He was looking for the exit and got lost.

A passage or gate from inside someplace to the outside, outgang.

She stood at the exit of the house looking back and waving at those inside.

The action of leaving.

He made his exit at the opportune time.
Verb
(third-person singular simple present exits, present participle exiting, simple past and past participle exited)
To go out
To leave
Origin
Depending on the sense, from two distinct but closely related Latin roots:
From exit ("he, she, or it goes out, departs, or exits"), the third-person singular present active indicative form of exeō ("I go out", "I depart", "I exit"); or,
From exit-, the stem of exitus ("a going out", "a departure"), the perfect passive participle of exeō.
---
exit - Computer Definition
(1) To get out of the current mode or quit the program. Contrast with launch.
(2) A DOS/Windows command that exits the command prompt.
(3) An instruction that terminates a script or program. The exit command may take a numeric argument to identify the reason for ending. For example, a "0" is often assigned to a normal close. Other exits are given different numbers by the programmer to identify which part of the program could no longer handle the current inputs and had to abnormally terminate.
---