fabric

fab·ric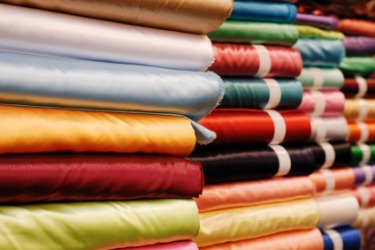 Stacks of satin fabric.
noun
Fabric is defined as cloth, or the basic framework of something.

An example of fabric is cotton.
An example of fabric is family; our family is the fabric of our life.
---
fabric
anything constructed or made of parts put together; structure; building
the framework or basic structure of anything

the style or plan of construction

a material made from fibers or threads by weaving, knitting, felting, etc., as any cloth, felt, lace, or the like
the texture of such material

Brit.

the construction and upkeep of a church building
Origin of fabric
Middle French
fabrique
from Classical Latin
fabrica
, a workshop, trade, product, fabric from
faber
, a workman from Indo-European base an unverified form
dhabh-
, to fit together from source Old English
(ge)dæfte
, fit
---
fabric
noun
a. A cloth produced especially by knitting, weaving, or felting fibers.

b. The texture or quality of such cloth.

A complex underlying structure: destroyed the very fabric of the ancient abbey during wartime bombing; needs to protect the fabric of civilized society.

a. A method or style of construction.

b. A structural material, such as masonry or timber.

c. A physical structure; a building.
Origin of fabric
Middle English
fabryke
something constructed
from
Old French
fabrique
from
Latin
fabrica
craft, workshop
from
faber
fabr-
workman, artificer
---
fabric

Noun
(countable and uncountable, plural fabrics)
(archaic) The act of constructing; construction; fabrication.
(archaic) The structure of anything; the manner in which the parts of a thing are united; workmanship; texture; make.

cloth of a beautiful fabric

(petrology) The appearance of crystalline grains in a rock
(computing) Interconnected nodes that look like a textile 'fabric' when viewed collectively from a distance

The internet is a fabric of computers connected by routers
---
fabric - Computer Definition
---