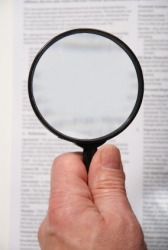 Reading the fine print.
noun
Fine print is defined as small text in contracts and advertisements which is often purposefully small in order to conceal or hide information.

An example of fine print is the 10 pages of teeny tiny text at the end of your cell phone contract.
An example of fine print is the tiny warning about side effects on the screen for a new drug ad.
---
fine print
a section of a document, as a contract, warranty, or advertisement, in smaller print than the main body: although it includes additional conditions, limits, etc., this section may not be read carefully because it is typically terse or in legalese
any additional details, conditions, etc. regarded as obscure or, often, deliberately obscure
---
fine print
noun
Print that is in small type.
The portion of a document, especially a contract, that contains qualifications or restrictions, often in small type.
Information containing small details or presented in difficult or obscure wording. Also called In all senses also called small print .
---
fine-print

---
fine print - Computer Definition

The really small print at the bottom of an advertisement that details the conditions under which a product or service offering is made, conditions on its use, limitations on associated liability, and other matters imposed or provided for by law or regulation. Fine print is not only really tiny, but also in legal or otherwise obscure language in hopes that you will not read it or not understand it and, therefore, will make your purchasing decision in ignorance.
---
fine print - Legal Definition
n
Colloquial
Of a contract, referring to matter within it that is obscurely phrased and generally adversarial to the less powerful party's interests, such as disclaimers of liability or penalties for late payment or performance. Derived from the custom of printing the parts of standard form contracts that contain such matter, in tiny, hard-to-read print.
---