hit

hit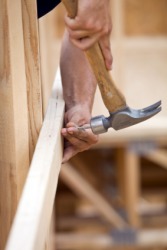 A construction worker hits the nail on the head.
noun
The definition of a hit is an impact or a successful result.

An example of a hit is a town that was ravaged by a tornado.
An example of a hit is a best-selling book.
verb
Hit is defined as to strike or collide with.

An example of to hit is to swing a bat and contact a baseball with it.
An example of to hit is for a car to crash into a tree.
---
hit
transitive verb
,

hit′ting
to come against, usually with force; strike: the car hit the tree
to give a blow to; strike; knock
to strike so as to deliver (a blow)
to strike by throwing or shooting a missile at: to hit the target
to cause to knock, bump, or strike, as in falling, moving, etc.: often with on or against: to hit one's head on a door
to affect strongly or adversely so as to distress or harm: a town hit hard by floods
to come upon by accident or after search; find; light upon: to hit the right answer
to arrive at (a place or point); reach; attain: stocks hit a new high
to go to; visit: we hit all the art galleries in town
strike, transitive verb, , & (variously)

Informal

to apply oneself to steadily or frequently: to hit the books

Slang

to demand or require of: with for; often with up: she hit me up for a loan

Slang

to murder: said as of a hired murderer or an assassin

Slang

to supply with a drug, etc.

Baseball

to get (a specified result) while batting the ball: to hit a double, a pop-up, etc.
to bat successfully against: to regularly hit southpaws

Card Games

in blackjack, to deal another card to
Origin of hit
Middle English
hitten
from Old English
hittan
from Old Norse
hitta
, to hit upon, meet with from Indo-European base an unverified form
keid
-, to fall from source Welsh
cwydd
, a fall
to give a blow or blows; strike
to attack suddenly
to knock, bump, or strike: usually with against
to come by accident or after search: with on or upon
to ignite the combustible mixture in its cylinders: said of an internal-combustion engine

Baseball

to bat: to hit only against southpaws, to hit fourth in the lineup
to hit the ball (with a specified result): to hit into a double play
a blow, shot, etc. that strikes its mark
a collision of one thing with another
an effectively witty or sarcastic remark
a stroke of good fortune
a successful and popular song, singer, book, author, etc.

Slang

a murder, as by a hired murderer or an assassin

Slang

a dose of a drug, a drink of alcoholic liquor, etc.

Backgammon

a game won by a player after one or more of the opponent's men have been removed from the board

Baseball

base hit

Comput.

an instance of finding or matching particular data in a computer search
an instance of being accessed: said of a website
Informal
designating or of a very successful and popular movie, recording, etc.
hit it off
Informal
to get along well together; be congenial
hit off
to mimic or portray briefly and well, usually in a satirical way
hit on
Slang
to make sexual advances to
hit or miss
without regard to success or failure; in a haphazard or aimless way
hit (out) at
to aim a blow at; try to hit
to attack in words; criticize severely
hit someone over the head
to strike on the head

Informal

to emphasize repeatedly or strongly to in an excessive manner
hit the fan
Slang
to become suddenly embarrassing, troublesome, etc.; have a strong negative effect
hit the ground running
Informal
to work or function vigorously and effectively from the very beginning
---
hit
verb
hit, hit·ting, hits
verb
transitive
To come into contact with forcefully; strike: The car hit the guardrail.

a. To cause to come into contact: She hit her hand against the wall.

b. To deal a blow to: He hit the punching bag.

c. To cause an implement or missile to come forcefully into contact with: hit the nail with a hammer.

To press or push (a key or button, for example): hit the return key by mistake.
Sports

a. To reach with a propelled ball or puck: hit the running back with a pass.

b. To score in this way: She hit the winning basket.

c. To perform (a shot or maneuver) successfully: couldn't hit the jump shot.

d. To propel with a stroke or blow: hit the ball onto the green.

Baseball

a. To execute (a base hit) successfully: hit a single.

b. To bat against (a pitcher or kind of pitch) successfully: can't hit a slider.

a. To affect, especially adversely: The company was hit hard by the recession. Influenza hit the elderly the hardest.

b. To be affected by (a negative development): Their marriage hit a bad patch.

Informal

a. To win (a prize, for example), especially in a lottery.

b. To arise suddenly in the mind of; occur to: It finally hit him that she might be his long-lost sister.

a. Informal To go to or arrive at: We hit the beach early.

b. Informal To attain or reach: Monthly sales hit a new high. She hit 40 on her last birthday.

c. To produce or represent accurately: trying to hit the right note.

Games To deal cards to.
Sports To bite on or take (bait or a lure). Used of a fish.
verb
intransitive
To strike or deal a blow.

a. To come into contact with something; collide.

b. To attack: The raiders hit at dawn.

c. To happen or occur: The storm hit without warning.

To achieve or find something desired or sought: finally hit on the answer; hit upon a solution to the problem.
Baseball To bat or bat well: Their slugger hasn't been hitting lately.
Sports To score by shooting, especially in basketball: hit on 7 of 8 shots.
To ignite a mixture of air and fuel in the cylinders. Used of an internal-combustion engine.
noun
a. A collision or impact.

b. A successfully executed shot, blow, thrust, or throw.

c. Sports A deliberate collision with an opponent, such as a body check in ice hockey.

A successful or popular venture: a Broadway hit.
Computers

a. A match of data in a search string against data that one is searching.

b. A connection made to a website over the internet or another network: Our company's website gets about 250,000 hits daily.

An apt or effective remark.
Abbr. H Baseball A base hit.
Slang

a. A dose of a narcotic drug.

b. A puff of a cigarette or a pipe.

Slang A murder planned and carried out usually by a member of an underworld syndicate.
Phrasal Verbs:
hit on
Slang
To pay unsolicited romantic attention to:
can't go into a bar lately without being hit on.
hit up
Slang
To approach and ask (someone) for something, especially for money:
tried to hit me up for a loan.
Origin of hit
Middle English
hitten
from
Old English
hyttan
from
Old Norse
hitta
Related Forms:
---
hit

Verb
(third-person singular simple present hits, present participle hitting, simple past and past participle hit)
To administer a blow to.

One boy hit the other.

To come into contact with forcefully and suddenly.

The ball hit the fence.

(colloquial) To briefly visit.

We hit the grocery store on the way to the park.

(informal) To encounter.

We hit a lot of traffic coming back from the movies.
You'll hit some nasty thunderstorms if you descend too late.

(informal) To reach or achieve.

We hit Detroit at one in the morning but kept driving through the night.
The temperature could hit 110° F tomorrow.
The movie hits theaters in December.
I hit the jackpot.

(intransitive) To meet or reach what was aimed at or desired; to succeed, often by luck.
To affect negatively.

The economy was hit by a recession.
The hurricane hit his fishing business hard.

(slang) To kill a person, usually on the instructions of a third party.

Hit him tonight and throw the body in the river.

(card games) In blackjack, to deal a card to.

Hit me.

(intransitive, baseball) To come up to bat.

Jones hit for the pitcher.

(computing, programming) To use; to connect to.

The external web servers hit DBSRV7, but the internal web server hits DBSRV3.

(US, slang) To have sex with.

I'd hit that.

(US, slang) To inhale an amount of smoke from a narcotic substance, particularly marijuana

I hit that bong every night after work

To guess; to light upon or discover.
(backgammon) To take up, or replace by a piece belonging to the opposing player; said of a single unprotected piece on a point.
Noun
(plural hits)
A blow; a punch; a striking against; the collision of one body against another; the stroke that touches anything.

The hit was very slight.

A success, especially in the entertainment industry.

The band played their hit song to the delight of the fans.

An attack on a location, person or people.

In the game of Battleship, a correct guess at where one's opponent ship is.

(computing, Internet) The result(s) of a search of a computer system or, for example, the entire Internet using a search engine
(Internet) A measured visit to a web site, a request for a single file from a web server.

My site received twice as many hits after being listed in a search engine.

An approximately correct answer in a test set.
(baseball) The complete play, when the batter reaches base without the benefit of a walk, error, or fielder's choice.

The catcher got a hit to lead off the fifth.

(colloquial) A dose of an illegal or addictive drug.

Where am I going to get my next hit?

A premeditated murder done for criminal or political purposes.
(dated) A peculiarly apt expression or turn of thought; a phrase which hits the mark.

a happy hit

A game won at backgammon after the adversary has removed some of his men. It counts for less than a gammon.
Origin
From Middle English hitten ("to hit, strike, make contact with"), from Old English hittan ("to meet with, come upon, fall in with"), probably of North Germanic origin, from Old Norse hitta ("to strike, meet"), from Proto-Germanic *hitjaną ("to come upon, find"), from Proto-Indo-European *k(')eid- ("to fall, fall upon"). Cognate with Icelandic hitta ("to meet"), Danish hitte ("to find"), Latin caedō ("fall"), Albanian qit ("to hit, throw, pull out, release").
Pronoun
(subjective and objective hit, reflexive and intensive hitself, possessive adjective and noun hits)
(dialectal) It.
Origin
From Middle English hit ("it"), from Old English hit ("it"), from Proto-Germanic *hit ("this, this one"), from Proto-Indo-European *k'e-, *k'ey- ("this, here"). Cognate with Dutch het ("it"). More at it. Note 'it.
Acronym
Acronym of High-intensity Interval Training.
Acronym of High-Intensity Training.
---
hit - Computer Definition
(1) A successful match. See hits and hit rate. See also Mechanical Turk.
(2) (HIT) (Health Information Technology) An umbrella term for information processing and services in the healthcare field. See EHR and CPOE.
---