hog

hog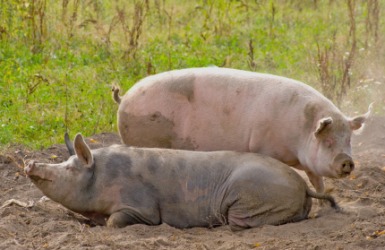 A pair of hogs.
noun
Hog is defined as a selfish or very dirty person, or is slang for a large motorcycle.

An example of a hog is someone eating the last of the food, their third helping, before others have had a chance to have any of the food.
An example of a hog is a Harley-Davidson.

The definition of a hog is an adult pig.

An example of a hog is a pig that is being sold for pork.
---
hog
noun
pl.
any swine, esp. a domesticated adult (Sus scrofa) ready for market, or, in England, a castrated boar

Brit.

a young sheep not yet shorn

Informal

a selfish, greedy, or gluttonous person
a coarse or filthy person

Slang

a large, heavy motorcycle
Origin of hog
Middle English from Old English
hogg
from uncertain or unknown; perhaps or akin to Old Norse
höggva
, to cut (akin to Old English
heawan
, hew), in basic sense "castrated"
transitive verb
hogged

,

hog′ging
to arch (the back) like a hog's
to cause (a ship, keel, etc.) to be higher in the center than at the ends

to trim (a horse's mane) in order to make it bristly

Slang

to grab greedily; take all of or an unfairly large share of
to be higher in the center than at the ends: said of the bottom of a ship
go the whole hog
Slang
to go all the way; do or accept something fully
high on (or off) the hog
Slang
in a luxurious or costly way
---
hog
noun
a. Any of various mammals of the family Suidae, which includes the domesticated pig as well as wild species, such as the wild boar and the warthog.

b. A domesticated pig weighing over 54 kilograms (120 pounds).

a. A self-indulgent, gluttonous, or filthy person.

b. One that uses too much of something.

also hogg

a. Chiefly British A young sheep before it has been shorn.

b. The wool from this type of sheep.

Slang A big, heavy motorcycle.
verb
hogged, hog·ging, hogs
verb
transitive
Informal To take more than one's share of: Don't hog the couch.
To cause (the back) to arch like that of a hog.
To cut (a horse's mane) short and bristly.
To shred (waste wood, for example) by machine.
verb
intransitive
Nautical To arch upward in the middle. Used of a ship's keel.
Origin of hog
Middle English
from
Old English
hogg
possibly of Celtic origin
; see
sū-
in Indo-European roots.
---
hog

Noun
(plural hogs)
Any animal belonging to the Suidae family of mammals, especially the pig, the warthog, and the boar.
A greedy person; one who refuses to share.
(slang) A large motorcycle, particularly a Harley-Davidson.
(nautical) A rough, flat scrubbing broom for scrubbing a ship's bottom under water.
Verb
(third-person singular simple present hogs, present participle hogging, simple past and past participle hogged)
Origin
From Middle English, from Old English hogg, hocg ("hog"), possibly from Old Norse hǫggva ("to strike, chop, cut"), from Proto-Germanic *hawwaną ("to hew, forge"), from Proto-Indo-European *kowə- ("to beat, hew, forge"). Cognate with Old High German houwan, Old Saxon hauwan, Old English hēawan (English hew). "Hog" originally meant a castrated male pig. (Compare "hoggett" for a castrated male sheep.) More at hew.
See also:
hög
---
hog - Computer Definition
A program that uses an excessive amount of computer resources, such as memory or disk, or takes a long time to execute.
---