hub

Hub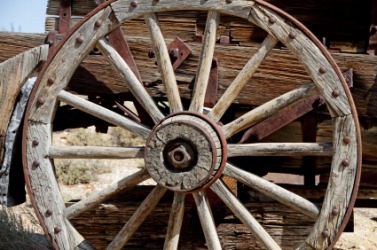 The hub of an old wagon wheel.
noun
The definition of a hub is the center of something.

An example of a hub is the center of a wheel.
An example of a hub is an intersection of roads with many popular restaurants.
---
hub
the center part of a wheel, etc.; the part fastened to the axle, or turning on it
a center of interest, importance, or activity
an airport that serves as a central connecting point through which many flights of a particular airline are routed
Origin of hub
probably ultimately from Indo-European base an unverified form
keu-
, to bend, mound, boss
---
hub
noun
The center part of a wheel, fan, or propeller.
A center of activity or interest; a focal point: Hollywood is the hub of the US movie industry.
Origin of hub
Probably alteration of
hob
1
Hub
noun
Boston, Massachusetts. Used with the .
Origin of Hub
After a scene in The Autocrat of the Breakfast-Table (1858), a dialogue collection by Oliver Wendell Holmes, in which a character summarizes the civic pride of Bostonians with the phrase
Boston State-House is the Hub of the Solar System
---
hub

Origin
From earlier hubbe, which has the same immediate origin as hob. Hub was originally a dialectal word; its ultimate origin is unknown.
---
hub - Computer Definition

A central point of interconnection for devices on a local area network (LAN) or LAN segment. Hubs act as passive LAN concentrators and repeaters, with a single internal collapsed backbone bus typically running at a signaling rate of 10/100 Mbps. LAN-attached devices such as workstations, peripherals, and servers typically connect to a hub via either unshielded twisted pair (UTP) or shielded twisted pair (STP). Hubs operate at Layer 1, the Physical Layer of the OSI Reference Model. Filtering hubs also operate at a portion of Layer 2, the Data Link Layer. See also 10Base-T, 100Base-T, concentrator, Data Link Layer, LAN, OSI Reference Model, Physical Layer, repeater, STP, and UTP.
---
(1) See Web hub, digital media hub and intelligent hub.
(2) In an Ethernet network, a device to which all clients and servers are wired. Most Ethernet hubs are active hubs and regenerate the data bits on the output side in order to maintain a strong signal. Ethernet hubs have mostly given way to Ethernet switches. See Ethernet, hub vs. switch and LAN.
(3) In a Token Ring network, a device to which all clients and servers are wired. It is officially known as a "Multi-station Access Unit" (MAU). See Token Ring and LAN.
---