interrupt

in·ter·rupt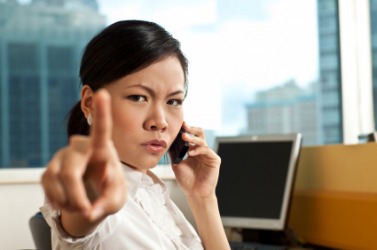 This woman does not want you to interrupt.
noun
The definition of an interrupt is a computer signal that tells the computer to stop running the current program so that a new one can be started or a circuit that carries such a signal.

An example of an interrupt is a signal to stop Microsoft Word so that a PowerPoint presentation can gear up.
verb
Interrupt is defined as to stop or cause something to stop for a period of time.

An example of to interrupt is to cut off a person while she is speaking.
---
interrupt
to break into or in upon (a discussion, train of thought, etc.)
to break in upon (a person) who is speaking, working, etc.; stop or hinder

to make a break in the continuity of; cut off; obstruct
Origin of interrupt
Middle English
interrupten
from Classical Latin
interruptus
, past participle of
interrumpere
, to break apart, break off from
inter-
, between +
rumpere
, to break: see rupture
to make an interruption, esp. in another's speech, action, etc.
---
interrupt
verb
in·ter·rupt·ed, in·ter·rupt·ing, in·ter·rupts
verb
transitive
To break the continuity or uniformity of: Rain interrupted our baseball game.
To stop (someone engaged in an activity) by saying or doing something: The baby interrupted me while I was on the phone.
verb
intransitive
To cause an activity to stop by saying or doing something.
noun
Computers
A signal to a computer that stops the execution of a running program so that another action can be performed.
A circuit that conveys a signal stopping the execution of a running program.
Origin of interrupt
Middle English
interrupten
from
Old French
interrupte
interrupted
from
Latin
interruptus
past participle of
interrumpere
to break off
inter-
inter-
rumpere
to break
; see
reup-
in Indo-European roots.
Related Forms:
in′ter·rupt′i·ble

adjective
in′ter·rup′tive

adjective
---
interrupt

Verb
(third-person singular simple present interrupts, present participle interrupting, simple past and past participle interrupted)
To disturb or halt an ongoing process or action by interfering suddenly.

A maverick politician repeatedly interrupted the debate by shouting.

To divide; to separate; to break the monotony of.

The evenness of the road was not interrupted by a single hill.
Noun
(plural interrupts)
(computing) An event that causes a computer to temporarily cease what it was doing and attend to a condition

The interrupt caused the packet handler routine to run.
---
interrupt - Computer Definition
A signal that gets the attention of the CPU and is usually generated when I/O is required. For example, hardware interrupts are generated when a key is pressed or when the mouse is moved. Software interrupts are generated by a program requiring disk input or output. An internal timer may continually interrupt the computer several times per second to keep the time of day current or for timesharing purposes. When an interrupt occurs, control is transferred to the operating system, which determines the action to be taken. Interrupts are prioritized; the higher the priority, the faster the interrupt will be serviced.
---