jet

jet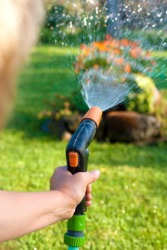 Water jets from this garden hose.
noun
Jet is defined as a type of aircraft or plane, or a high-pressure stream of liquid or gas, or is a nozzle out of which a high pressure stream comes.

An Air Force fighter plane is an example of a jet.
A high-pressure stream of air that comes out of a Jacuzzi tub and makes bubbles is an example of a jet.
An opening in a Jacuzzi tub that allows bubbles to come out is an example of a jet.
verb
The definition of jet is to travel by aircraft.

If you fly off to Paris for the weekend, this is an example of when you jet.
---
jet
transitive verb
intransitive verb
jet′ted

,

jet′ting
to spout, gush, or shoot out in a stream, as liquid or gas
to travel or convey by jet airplane
Origin of jet
from Middle French
jeter,
to throw from Old French from Vulgar Latin an unverified form
jectare,
for Classical Latin
jactare
, frequentative of
jacere,
to throw from Indo-European base an unverified form
y?-,
to throw, do from source Classical Greek
hienai,
to set in motion, throw, send
a stream of liquid or gas emitted or forced out, as from a spout
a spout or nozzle for emitting a stream of water or gas
a jet-propelled airplane

in full jet airplane (or plane)
Origin of jet
ME < OFr
get, giet,
a throw, spurt < L
jactus,
a throw, cast
jet-propelled
of or having to do with jet propulsion or jet-propelled aircraft: the jet age
a hard, black variety of lignite, which takes a high polish: sometimes used in jewelry
a deep, lustrous black
Origin of jet
Middle English
get
from Old French
jaiet
from Classical Latin
gagates
from Classical Greek
gagat?s,
jet, after
Gagas,
town and river in Lycia, Asia Minor
made of jet
black like jet
---
jet
noun
A dense black coal that takes a high polish and is used for jewelry.
A deep black.
adjective
Made of or resembling a dense, black, highly polished coal.
Black as coal; jet-black: jet hair.
Origin of jet
Middle English
from
Anglo-Norman
geet
from
Latin
gagātēs
from
Greek
after
Gagas
, a town of Lycia
noun
a. A high-velocity fluid stream forced under pressure out of a small-diameter opening or nozzle.

b. An outlet, such as a nozzle, used for emitting such a stream.

c. Something emitted in or as if in a high-velocity fluid stream: "such myriad and such vivid jets of images" ( Henry Roth )

a. A jet-propelled vehicle, especially a jet-propelled aircraft.

b. A jet engine.
verb
jet·ted, jet·ting, jets
verb
intransitive
To travel by jet aircraft: jetted from Houston to Los Angeles.
To move very quickly.
verb
transitive
To propel outward or squirt, as under pressure: "Any man might … hang around … jetting tobacco juice" ( Ross Lockridge, Jr. )
Origin of jet
French
from
Old French
from
jeter
to spout forth, throw
from
Vulgar Latin
iectāre
alteration of
Latin
iactāre
frequentative of
iacere
to throw
; see
yē-
in Indo-European roots.
---
jet

Verb
(third-person singular simple present jets, present participle jetting, simple past and past participle jetted)
(intransitive) To spray out of a container.
(intransitive) To travel on a jet aircraft or otherwise by jet propulsion
(intransitive) To move (running, walking etc.) rapidly around
To shoot forward or out; to project; to jut out.
To strut; to walk with a lofty or haughty gait; to be insolent; to obtrude.
To jerk; to jolt; to be shaken.
Adjective
(not comparable)
Propelled by turbine engines.

jet airplane
Noun
(plural jets)
The colour of jet coal, deep grey.
Adjective
(not comparable)
Very dark black in colour.
---
jet - Computer Definition
(Joint Engine Technology) The database engine used in Microsoft Access and that accompanies Visual Basic and C++. Jet is typically used for storing data in the client machine. Developers using Access and Visual Basic access Jet via the DAO/Jet interface, which is a COM object. See DAO.
---