jovial

jo·vi·al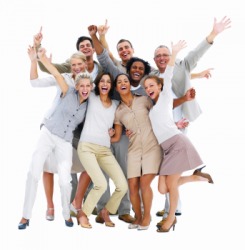 A jovial group of people.
adjective
The definition of jovial is defined as someone who is happy and cheerful.

An energetic guest at a party who makes everyone laugh is an example of someone who is jovial.
---
jovial
[J-] Jovian
full of hearty, playful good humor; genial and cheerful: from the astrological notion that people born under the sign of Jupiter are joyful
Origin of jovial
French from Late Latin
Jovialis,
of Jupiter from Classical Latin
Jovis:
see Jove
---
jovial
adjective
Marked by hearty conviviality and good cheer: a jovial host.
Origin of jovial
French
from
Middle French
under the favorable astrological influence of the planet Jupiter, jovial
from
Old Italian
from
Late Latin
Ioviālis
of Jupiter
from
Latin
Iuppiter
Iov-
Jupiter
; see
dyeu-
in Indo-European roots.
Related Forms:
---
jovial

Adjective
(comparative more jovial, superlative most jovial)
Merry; cheerful and good-humored.
---
jovial - Computer Definition
(Jules' Own Version of the International Algebraic Language) An ALGOL-like programming language developed by Systems Development Corp. in the early 1960s and widely used in the military. Its key architect was Jules Schwartz.
---