lane

lane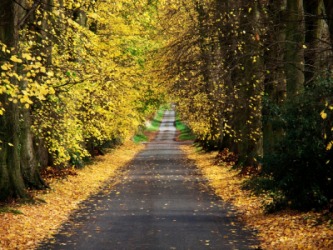 A country lane in Autumn.
noun
The definition of a lane is a narrow route or path.

An example of a lane is an alley between two buildings.
An example of a lane is the polished wood area where bowling balls are rolled towards the pins.
---
lane
a narrow way between hedges, walls, buildings, etc.; narrow country road or city street
any narrow way, as an opening in a crowd of people

a path or route designated, as for reasons of safety, for ships or aircraft
a marked strip of road wide enough for a single line of cars, trucks, etc.

any of the parallel courses marked off for contestants in a race

Basketball

free throw lane

Bowling

a long, narrow strip of highly polished wood, along which the balls are rolled; alley
[usually pl.] a bowling establishment
Origin of lane
Middle English from Old English
lanu
, akin to Dutch
laan
from uncertain or unknown; perhaps Indo-European base an unverified form
el?-
, to be in motion, go
---
lane
noun
a. A narrow country road.

b. A narrow way or passage between walls, hedges, or fences.

A narrow passage, course, or track, especially:

a. A prescribed course for ships or aircraft.

b. A strip delineated on a street or highway to accommodate a single line of vehicles: a breakdown lane; an express lane.

c. Sports One of a set of parallel courses marking the bounds for contestants in a race, especially in swimming or track.

d. Sports A wood-surfaced passageway or alley along which a bowling ball is rolled.

e. Sports An unmarked lengthwise area of a playing field or ice rink viewed as the main playing area for a particular position, such as a wing in soccer.

f. Basketball The rectangular area marked on a court from the end line to the foul line.
Origin of lane
Middle English
from
Old English
lane
---
lane

Noun
(plural lanes)
A narrow passageway between fences, walls, hedges or trees
A similar division of a racetrack to keep runners apart
(card games) An empty space in the tableau, formed by the removal of an entire row of cards.
Origin
From Middle English lane, lone, from Old English lane, lanu ("a lane, alley, avenue"), from Proto-Germanic *lanō ("lane, passageway"), from Proto-Indo-European *ela-, *el(ʷ)-, *lā- ("to drive, move, go"). Cognate with Scots lone ("cattle-track, by-road"), Eastern Frisian lone ("lane"), West Frisian leane, loane ("a walkway, avenue"), Dutch laan ("alley, avenue"), Middle Low German lane ("a narrow passage, cattle-track"), Swedish lån ("covered walkway encircling a house"), Icelandic lön ("a row of houses").
Proper noun
A topographic surname​ for someone who lived in a lane.
A patronymic surname​ anglicised from various Irish surnames.
A male given name transferred from the surnames.
An unincorporated community in Idaho.
An unincorporated community in Oklahoma.
A town in South Carolina.
A town in South Dakota.
---
lane - Computer Definition

A specification (January 1995) from the ATM Forum (since merged into the MFA Forum) for an ATM service in support of native Ethernet (802.3) and Token Ring (802.5) local area network (LAN) communications over an ATM network. Software in the end systems (e.g., ATM-based hosts or routers, known as proxies), of the ATM network emulates a native LAN environment. LANE acts as Layer 2 bridge in support of connectionless LAN traffic, with the connection-oriented ATM service being transparent to the user application. In LANE, a LAN emulation client (LEC) connects to the ATM network over a LANE user-to-network interface (LUNI). The network-based LAN emulation server (LES) registers the LAN medium access control (MAC) addresses and translates them into ATM addresses using the address resolution protocol (ARP). Each LEC is assigned to an emulated LAN (ELAN) by an optional network-based LAN emulation configuration server (LECS). Each LEC also is associated with a broadcast and unknown server (BUS) that handles broadcast and multicast traffic, as well as initial unicast frames before address resolution. LANE traffic generally is Class C variable bit rate (VBR) traffic in message mode, and is supported over ATM Adaptation Layer Type 5 (AAL5). See also 802.3, 802.5, AAL5, ARP, ATM, ATM Forum, broadcast, BUS, Class C ATM traffic, connectionless, connection-oriented, ELAN, emulation, Ethernet, host, Layer 2, LEC, LECS, LES, LUNI, MAC, message mode service, MFA Forum, multicast, proxy, router, Token Ring, unicast, and VBR.
---
(LAN Emulation) Connecting Ethernet and Token Ring networks together via ATM. LANE is also used to create emulated LANs (ELANs), which like VLANs, logically combine groups of users. Governed by the ATM Forum, the LANE User-to-Network Interface (LUNI) defines how end stations communicate with the ATM network. Encapsulating LAN Packets The LANE driver encapsulates Ethernet and Token Ring packets into LANE packets and then converts them into ATM cells, and vice versa. The driver resides in each client station and in an edge device between the LAN and the ATM switch. The LECS and BUS Implemented in an ATM switch or stand-alone server, LANE comprises two software components: the LANE Configuration Server (LECS) provides address resolution, and the Broadcast and Unknown Server (BUS) manages multicast and broadcast traffic within the ELAN. See ATM and MPOA.
---