latch

latch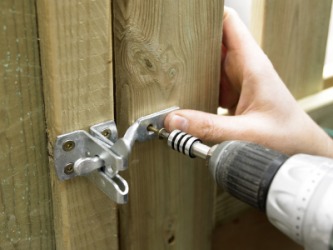 A latch being installed to a gate.
noun
The definition of a latch is a hook, bar or other mechanism that causes a door or cupboard to close and stay closed.

A metal bar that keeps a gate from opening is an example of a latch.
verb
Latch is defined as to fasten something closed.

When you close a gate and fasten a metal bar to keep it from opening, this is an example of when you latch the gate.
---
latch
a fastening for a door or gate, esp. one capable of being worked from either side by means of a lever and consisting of a bar that drops into a notch in a piece attached to the doorjamb or gatepost
a spring lock on a door; specif., a night latch
a fastening for a window, etc.
Origin of latch
Middle English
lacche
from
lacchen
, to seize, catch hold of from Old English
læccan
from Indo-European base an unverified form
(s)lagw-
, to grasp, seize from source Classical Greek
lazesthai
, to take,
lambanein
, to seize
to fasten or close with a latch
latch on to
to seize or grasp
to comprehend or embrace (an idea, etc.)
to attach oneself to in a manner regarded as assertive, presumptuous, etc.: tried to latch on to her big sister's circle of friends
on the latch
fastened by the latch (sense ) but not locked or bolted
---
latch
noun
A fastening, as for a door or gate, typically consisting of a bar that fits into a notch or slot and is lifted from either side by a lever or string.
A spring lock, as for a door, that is opened from the outside by a key.
verb
latched, latch·ing, latch·es
verb
transitive
To close or lock with a latch.
verb
intransitive
To have or be closed with a latch.
To shut tightly so that the latch is engaged: a door too warped to latch.
Origin of latch
Middle English
latche
from
lacchen
to seize
from
Old English
læccan
---
latch

---
latch - Computer Definition
---