leap

leap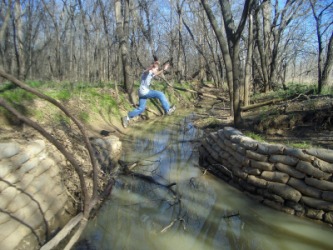 A boy leaps across a stream.
noun
The definition of a leap is a jump from one point to another or a sudden or large movement or transition.

An example of leap is how a frog gets around.
An example of leap is going right from a first date to a wedding.
verb
Leap is defined as to jump up from the ground.

An example of leap is to jump across a small stream.
---
leap
intransitive verb
leaped

,

leap′ing
to move oneself suddenly from the ground, etc. by using one's leg muscles; jump; spring
to move suddenly or swiftly, as if by jumping; bound
to accept eagerly something offered: with at: to leap at a chance
Origin of leap
Middle English
lepen
from Old English
hleapan
, akin to Middle Dutch
lopen
, German
laufen
to pass over by a jump
to cause or force to leap: to leap a horse over a wall
the act of leaping; jump; spring
the distance covered in a jump
a place that is, or is to be, leapt over or from
a sudden transition
leap in the dark
an act that is risky because its consequences cannot be foreseen
---
leap
verb
leaped,
or
leapt
leap·ing, leaps
verb
intransitive
a. To propel oneself quickly upward or a long way; spring or jump: The goat leaped over the wall. The salmon leapt across the barrier.

b. To move quickly or suddenly: leaped out of his chair to answer the door.

a. To change quickly or abruptly from one condition or subject to another: always leaping to conclusions.

b. To act quickly or impulsively: leaped at the opportunity to travel.

c. To enter eagerly into an activity; plunge: leapt into the project with both feet.
verb
transitive
To propel oneself over: I couldn't leap the brook.
To cause to leap: She leapt her horse over the hurdle.
noun
a. The act of leaping; a jump.

b. A place jumped over or from.

c. The distance cleared in a leap.

An abrupt or precipitous passage, shift, or transition: a leap from rags to riches.
Phrasal Verbs:
leap out
To be readily noticed:
The sign leapt out at us from the window.
Origin of leap
Middle English
lepen
from
Old English
hlēapan
Related Forms:
---
leap

Verb
(third-person singular simple present leaps, present participle leaping, simple past leaped, leapt, or archaically lept or lope, past participle leaped, leapt, or archaically lopen)
(intransitive) To jump.
To pass over by a leap or jump.

to leap a wall or a ditch

To copulate with (a female beast); to cover.
To cause to leap.

to leap a horse across a ditch
Usage notes
The choice between leapt and leaped is mostly a matter of regional differences: leapt is preferred in British English and leaped in American English. According to research by John Algeo (British or American English?, Cambridge, 2006), leapt is used 80% of the time in UK and 32% in the US.
Noun
(plural leaps)
Part or all of this entry has been imported from the 1913 edition of Webster's Dictionary, which is now free of copyright and hence in the public domain. The imported definitions may be significantly out of date, and any more recent senses may be completely missing.
Origin
Middle English lepen, from Old English hlÄ"apan, from Proto-Germanic *hlaupanÄ… (compare West Frisian ljeppe "˜to jump', Dutch lopen "˜to run; to walk', German laufen "˜to run', Danish løbe), from Proto-Indo-European (compare Lithuanian Å¡lùbti "˜to become lame', klùbti "˜to stumble').
Noun
(plural LEAPs)
(acronym) Lightweight Extensible Authentication Protocol
---
leap - Computer Definition
---