network

net·work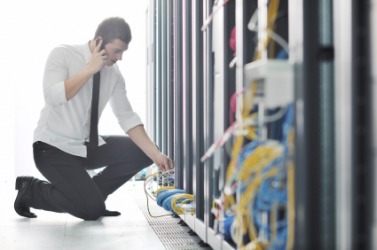 The computer network room for a business communications system.
noun
The definition of a network is a structure with cords, threads or wires crossing each other.

An example of network is a telephone system for a large business.
verb
Network is defined as to exchange contact and career information with other people.

An example of network is an amateur model talking with and gathering business cards from every person she can at a fashion industry party.
---
network
any arrangement or fabric of parallel wires, threads, etc. crossed at regular intervals by others fastened to them so as to leave open spaces; netting; mesh
a thing resembling this in some way; specif.,

a system of roads, canals, veins, etc. that connect with or cross one another
a group, system, etc. of interconnected or cooperating individuals

Comput.

a system, as within a business or university, consisting typically of a server and connected microcomputers, terminals, printers, etc.; specif., a local area network
a larger system encompassing interconnected computer systems, as from various businesses, universities, etc.

a chain of transmitting stations linked by cable, microwave relay, satellite, etc., usually sharing the same programs
a company that produces programs to be broadcast over such a network

the making of nets or netted fabric
Origin of network
net + work
broadcast over the stations of a network
to develop contacts or exchange information with others, as to further a career
to organize or integrate into a network
to present on or broadcast over a network
---
network
noun
An openwork fabric or structure in which cords, threads, or wires cross at regular intervals.
Something resembling an openwork fabric or structure in form or concept, especially:

a. A system of lines or channels that cross or interconnect: a network of railroads.

b. A complex, interconnected group or system: an espionage network.

c. An extended group of people with similar interests or concerns who interact and remain in informal contact for mutual assistance or support.

a. A chain of radio or television broadcasting stations linked by wire or microwave relay.

b. A company that produces the programs for these stations.

a. A group or system of electric components and connecting circuitry designed to function in a specific manner.

b. Computers A system of computers interconnected by telephone wires or other means in order to share information. Also called net 1.
verb
net·worked, net·work·ing, net·works
verb
transitive
To cover with an openwork fabric or structure.
To broadcast over a radio or television network.

a. To interconnect as components in a group or system.

b. Computers To connect (computers) into a network.
verb
intransitive
To interact or engage in informal communication with others for mutual assistance or support.
Related Forms:
---
network

Verb
(third-person singular simple present networks, present participle networking, simple past and past participle networked)
(intransitive) To interact socially for the purpose of getting connections or personal advancement.

Many people find it worthwhile to network for jobs and information.

To connect two or more computers or other computerized devices.

If we network his machine to the server, he will be able to see all the files.

To interconnect a group or system.
---
network - Computer Definition

A fabric of elements that work together much as the fabric or mesh of a net to support the transfer of information. A network includes all links, amplifiers and repeaters, multiplexers, switches, routers, and other intermediate devices involved in establishing, maintaining, and terminating a session between a transmitter and a receiver. A network may take the form of a local area network (LAN), metropolitan area network (MAN), personal area network (PAN), or wide area network (WAN). See also LAN, MAN, PAN, and WAN.
---

A group of computers and related devices connected by communications hardware and software to share data and peripherals such as printers and modems.
See Also: Local Area Network (LAN).
Symantec Security Response. Glossary. [Online, July 15, 2004.] Symantec Security Response Website. http://securityresponse.symantec.com/avcenter/refa.html.
---
(1) Any arrangement of elements that are interconnected. See network database.
(2) A system that transmits data between users, which includes the user devices (phones, computers, etc.) and the network equipment (servers, switches, routers, cables, etc.). In wireless systems, antennas replace the cables. LANs and WANs Local area networks (LANs) are internal to a home, building or complex, and almost all use the IEEE Ethernet standard. The wireless counterpart is commonly known as "Wi-Fi." Wide area networks (WANs) span large distances, such as a state or nation. See LAN, WAN, Ethernet, Wi-Fi, client, server, switch, router, enterprise networking and communications.
Network+
---