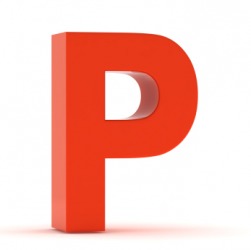 The letter P.
noun
P is the 16th letter of the English alphabet or the sound of this letter.

An example of p is the first letter in the word "plant."
---
p
or P
noun
pl.
the sixteenth letter of the English alphabet: from the Greek pi, a borrowing from the Phoenician
any of the speech sounds that this letter represents, as, in English, the (p) of peace
a type or impression for p or P
the sixteenth in a sequence or group
an object shaped like
of p or P
sixteenth in a sequence or group
shaped like
mind
to be careful of one's words and actions
Origin of p
probably origin, originally a warning to children to distinguish carefully between the similarly formed letters
p
and
q
page
part
participle
past
penny; pence
per
peseta
peso
petite
pico-
pint(s)
pipe

Baseball

pitcher

Origin of p

Classical Latin post meridiem PM: 7:00 p
pole
population
power
pressure
pro

Physics

proton
Origin of p
Italian
piano
: see piano
Musical Direction
soft(ly)
P
Genetics

parental generation
park (on automotive automatic-shift indicators)
parking

Chess

pawn
peta-

Bible

Peter
petite

Baseball

pitcher
poise(s) (unit of viscosity)
police

Physics

power
president

Physics

pressure
priest
prince

Mil.

prisoner

Rom. History

Publius (the praenomen)

Football

punter
purl
P
p-
Chem.

para- (sense ): usually italicized and hyphenated in chemical names

Elec.

positive
---
p
or P
noun
pl.
p's,
or
P's
also
ps
or
Ps
The 16th letter of the modern English alphabet.
Any of the speech sounds represented by the letter p.
The 16th in a series.
Something shaped like the letter P.
P A hypothesized textual source of certain portions of the Pentateuch that have a formulaic style, contain genealogical lists and descriptions of rituals, and use the name "Elohim" to refer to God.
original manuscript, Constitution of the United States of America
Drafted in Philadelphia in 1787, the Constitution begins with the words We the People.
abbreviation
piano (musical direction)
proton
P
P
abbreviation
Genetics parental generation
Physics

a. parity

b. parity conjugation

pass
pawn (chess)
Bible Peter
Physics pressure
p.
abbreviation
page
part
participle
past
penny
peseta
peso
pint
pipe
pole
population
Economics principal
---
p

---
p - Computer Definition

Peta (P), from the Greek penta, meaning five, translates to quadrillion, referring to the fact that, in terms of order of magnitude in base 1,000, Peta is 1,000 5 . In order, that puts it right behind kilo (thousand), Mega (million), Giga (billion), and Tera (trillion).
In terms of the electromagnetic spectrum, PHz (PetaHertz) is a quadrillion (10 15 ) Hertz, which is in the range of visible light, ultraviolet (UV) light, and x-rays, none of which currently have any application in telecommunications. A Pbps would be a quadrillion (10 15 ) bits per second. In transmission systems, therefore, a quadrillion would be exactly 1,000,000,000,000,000, since the measurement is based on a base 10, or decimal, number system.That definitely would be broadband, if it were possible, but it is difficult to imagine a contemporary application for that level of bandwidth.
In computing and storage systems, a PB (PetaByte) is actually 1,125,899,906,842,624 bytes (1,024 5 , or 2 50 ) bytes, as the measurement of internal computer memory is based on a base 2, or binary, number system.The term PB comes from the fact that 1,125,899,906,842,624 is nominally, or approximately, 1,000,000,000,000,000. Until recently, a petabyte was rarely even mentioned. A very few supercomputers and supercomputer centers have access to a PB of networked storage. Google, the Web search company, in 2004 reportedly had 100,000 or so servers that shared a distributed, fault-tolerant file system on the order of a PB.To put a PB in further perspective, some sources suggest that the total volume of information contained in 20,000,000 four-drawer file cabinets full of 250,000,000,000 pages of text would equal approximately 1 PB of storage. See also byte, electromagnetic spectrum, and Hertz.
Power. See also power.
---