portal

por·tal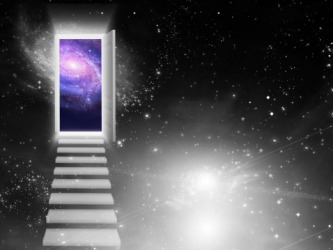 An imaginary doorway could be a portal to the other side of the universe.
noun
The definition of a portal is a gateway or entry to something else.

An example of a portal is a door into a room.
An example of a portal is a website that takes you to many other websites.
---
portal
a doorway, gate, or entrance, esp. a large and imposing one
any point or place of entry, specif. one where nerves, vessels, etc. enter an organ
a website designed to provide access to numerous other sites and, variously, e-mail service, online shopping, etc.
Origin of portal
Middle English from Middle French from Medieval Latin
portale
, origin, originally neuter of
portalis
, of a door from Classical Latin
porta:
see port
designating, of, or like the vein carrying blood from the intestines, stomach, etc. to the liver
Origin of portal
ML
portalis
---
portal
noun
A doorway, entrance, or gate, especially one that is large and imposing.
An entrance or a means of entrance: the local library, a portal of knowledge.
The portal vein.
A website considered as an entry point to other websites, often by being or providing access to a search engine.
adjective
Of or relating to the portal vein or the portal system.
Of or relating to a point of entrance to an organ, especially the transverse fissure of the liver, through which the blood vessels enter.
Origin of portal
Middle English
from
Old French
from
Medieval Latin
portāle
city gate
from neuter of
portālis
of a gate
from
Latin
porta
gate
; see
per-
2
in Indo-European roots.
N., sense 3 and adj., from
New Latin
porta (hepatis)
transverse fissure (of the liver), literally gate of the liver
perhaps ultimately translation of
Akkadian
bāb (ekalli)
gate (of the palace), umbilical fissure of the liver (next to the transverse fissure)
portal
Shrine of Imam Reza
Mashhad, Iran
---
portal

Noun
(plural portals)
An entrance, entry point, or means of entry.

The local library, a portal of knowledge.

(Internet) A website that acts as an entrance to other websites on the Internet.

The new medical portal has dozens of topical categories containing links to hundreds of sites.

(fiction) A magical or technological doorway leading to another location, period in time or dimension.
(architecture) A lesser gate, where there are two of different dimensions.
(architecture) Formerly, a small square corner in a room separated from the rest of an apartment by wainscoting, forming a short passage to another apartment.
(bridge-building) The space, at one end, between opposite trusses when these are terminated by inclined braces.
Adjective
(not comparable)
---
portal - Computer Definition

---

Known also as Web portal, is a special kind of Website. The term portal was initially given to large Internet search engines that expanded their offerings to include email, news, stock quotes, and other information tidbits of practical use. Some large companies developed Intranet Websites with a similar approach, giving way to what is now known as "enterprise information" or "corporate portals." A portal typically has a home page allowing for navigation of loosely integrated features provided by a c­ompany's divisions or by independent third parties and a large, diversified target audience.
See Also: Electronic Mail or Email; Internet; Intranet.
About, Inc. Portal. [Online, 2004.] About, Inc. Website. http:// compnetworking.about.com/library/glossary/bldef-portal.htm.
---
A Web "supersite" that provides a variety of services including Web search, news, blogs, discussion groups, shopping and links to other sites. The major general-purpose portals are Google, Yahoo, MSN and AOL, all of which offer free Web-based e-mail accounts. TV networks and newspapers provide general-purpose portals, but not e-mail. Many portals allow the home page to be personalized (see personal portal). Prior to the Web, CompuServe and AOL functioned as portals, aggregating information from various sources. The Vortal Portals also serve vertical markets. Trade magazines, associations and special interest groups host vertical portals (vortals) and provide news and articles for their industry such as IT, banking and insurance. The vortal may also include general information such as top news stories and weather; however, their search capabilities are often limited to their own archives, rather than the entire Web. See corporate portal, business intelligence portal and portal server.
---
portal - Investment & Finance Definition
An automated trading system operated by the National Association of Securities Dealers (NASD) to trade unregistered foreign and domestic securities.
---