queue

queue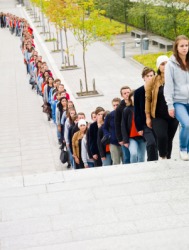 A lot of people waiting in a queue.
noun
The definition of a queue is a file or a line.

An example of queue is the line of people at a movie theater box office on the opening night of a big hit.
verb
Queue is defined as to form in a line.

An example of queue means to arrange students in a row from tallest to shortest.
---
queue
a plait of hair worn hanging from the back of the head; pigtail

Brit.

a line or file of persons, vehicles, etc. waiting as to be served
a stored arrangement of computer data or programs, waiting to be processed
Origin of queue
French from Old French
coue
from Classical Latin
coda,
variant, variety of
cauda,
tail
intransitive verb
queued

,

queu′ing
Brit.
to form in or be part of a line or file while waiting to be served, etc.: often with
up
---
queue
noun
A line of waiting people or vehicles.
Computers

a. A sequence of stored data or programs awaiting processing.

b. A data structure from which the first item that can be retrieved is the one stored earliest.

A long braid of hair worn hanging down the back of the neck; a pigtail.
verb
queued, queu·ing, queues
verb
intransitive
To get in line: queue up at the box office.
verb
transitive
To place in a sequence: queued the queries in order of relevance.
To braid or twist (hair) into a queue.
Origin of queue
French
tail, queue
from
Middle French
from
Old French
cue
tail
from
Latin
cauda, cōda
; see
coda
.
---
queue

Verb
(third-person singular simple present queues, present participle queueing or queuing, simple past and past participle queued)
(UK) To put oneself or itself at the end of a waiting line.
(UK) To arrange themselves into a physical waiting queue.
(computing) To add to a queue data structure.
To fasten the hair into a queue.
Origin
From Anglo-Norman queue, keu et al. and Middle French queu, cueue et al., from Latin cauda.
---
queue - Computer Definition

A list, string, or stack of things constructed so that items are added to one end and relieved from one end or the other. Generally speaking, items are added to one end, known as the tail, and relieved from the other end, known as the head. In the absence of some priority mechanism for purposes of establishing and maintaining quality-of-service (QoS) differentiation, items are relieved from the head of the queue in the order they entered the tail.This approach is known as first-in-first-out (FIFO). Incoming call centers employ automatic call distributors (ACDs) that queue incoming calls, serving them to agents as they become available. Fax servers can queue documents for transmission during non-prime time hours, when international calling costs are lowest. PBX systems commonly have the capability to queue outgoing calls for expensive long distance circuits. Switches and routers queue packets in buffers until internal resources are available to process them or until bandwidth is available to forward them. Systems may support multiple queues for different types of calls or packets. Priority mechanisms can cause a call or packet to move up in the queue or even advance to the head of the queue in order that it can be served more quickly. See also ACD, call, facsimile, packet, PBX, QoS, router, and switch.
---
---