recovery

re·cov·er·y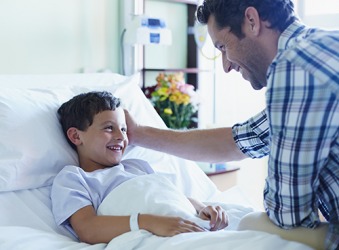 Conner's swift recovery from his minor surgical procedure gave his father much relief.
noun
Recovery is the regaining or returning of something.

An example of recovery is someone getting healthy after being sick.
---
recovery
noun
pl.
-·er·ies
the act or an instance of recovering; specif.,

a regaining of something lost or stolen
a return to health, consciousness, etc.
a regaining of balance, control, composure, etc.
a retrieval of a capsule, nose cone, etc. after a spaceflight or launch
the removal of valuable substances from waste material, byproducts, etc.

Sports

a return to a position of guard, readiness, etc., as after a lunge in fencing or a stroke in rowing
a process of attempting to change dysfunctional behavior, as by abstaining from an addictive substance: an alcoholic in recovery
Origin of recovery
Middle English
recoverie
from Anglo-French
---
recovery
noun
pl.
re·cov·er·ies
The act, process, duration, or an instance of recovering.
A return to a normal or healthy condition.
The act of obtaining usable substances from unusable sources.
---
recovery

Noun
(plural recoveries)
The act or process of regaining or repossession of something lost.
A return to normal health.
A return to former status.
---
recovery - Computer Definition
---
recovery - Investment & Finance Definition
An upward movement in prices after a sustained period of downward price movement.
---
recovery - Legal Definition
n
The getting back of something that was taken away; the amount awarded by a decree or judgment; the establishment by a court of a right to something by decree or judgment of a court.
---