rendezvous

ren·dez·vous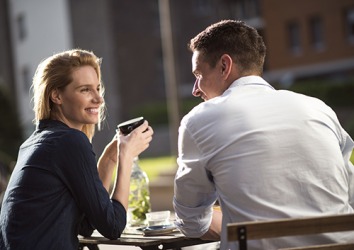 Jemma and Aidan rendezvous at the cafe for lunch because they don't want anyone at work to know that they are dating.
noun
The definition of a rendezvous is a pre-arranged meeting, or a pre-arranged meeting place.

When two people agree to meet for lunch, this is an example of arendezvous.
A popular table in a restaurant where two people often meet is an example of arendezvous.
verb
Rendezvous is to meet up at an agreed time at an agreed place.

When you meet your friend at an agreed meeting place, this is an example of when you rendezvous.
---
rendezvous
noun
pl.
-·vous·
a place designated for a meeting or assembling, as of troops, ships, airplanes, space vehicles, etc.
a place where people are in the habit of meeting or gathering

an agreement or appointment between two or more persons, esp. between lovers, to meet at a certain time or place
the meeting itself
Origin of rendezvous
Fr: substantive use of
rendez-vous,
betake or present yourself (or yourselves)
intransitive verb
-·voused·

,

-·vous·ing
to meet or assemble at a certain time or place
to assemble (troops, etc.) at a certain time or place
---
rendezvous
noun
pl.
ren·dez·vous,
A meeting at a prearranged time and place. See Synonyms at engagement.
A prearranged meeting place, especially an assembly point for troops or ships.
A popular gathering place: The café is a favorite rendezvous for artists.
Aerospace The process of bringing two spacecraft together.
tr. & intr.v.
ren·dez·voused, ren·dez·vous·ing, ren·dez·vous,
To bring or come together at a rendezvous.
Origin of rendezvous
French
from the phrase
rendez vous
present yourselves
from
Old French
rendez
second person pl. imperative of
rendre
to present
; see
render
.
vous
yourselves, you
(
from
Latin
vōs
you
; see
wōs
in Indo-European roots.)
---
rendezvous

Noun
(plural rendezvouses or rendezvous)
An agreement to meet; a location or time agreed upon to meet.

"Get the party started at the rendezvous at oh six hours."

A place appointed for a meeting, or at which persons customarily meet.
The appointed place for troops, or for the ships of a fleet, to assemble; also, a place for enlistment.
Verb
(third-person singular simple present rendezvous or rendezvouses, present participle rendezvousing, simple past and past participle rendezvoused)
To meet at an agreed time and place.

Let's rendezvous at the bordello at 8:00 and go from there.
Origin
From French rendez-vous, from rendez, second person plural, imperative, of se rendre ("to go (to)") + vous ("you").
---
rendezvous - Computer Definition
---