research

re·search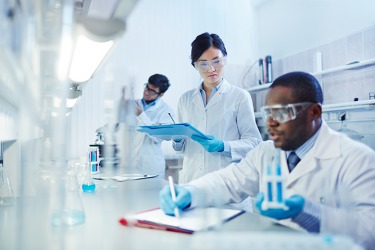 The scientists conducted research to find a cure for the disease.
noun
Research is careful and organized study or gathering of information about a specific topic.

An example of research is a project where scientists try to find a cure for AIDS.
An example of research is the information a high school student tracks down information for a school report.
verb
Research is defined as to track down information or gain knowledge about a specific subject.

An example of research is gathering information on the Internet about traveling in Mexico.
---
research
[sometimes pl.] careful, systematic, patient study and investigation in some field of knowledge, undertaken to discover or establish facts or principles
Origin of research
Middle French
recerche
from
recercher,
to travel through, survey: see re- and search
to do research; make researches
to do research on or in; investigate thoroughly
---
research
noun
Careful study of a given subject, field, or problem, undertaken to discover facts or principles.
An act or period of such study: her researches of medieval parish records.
verb
re·searched, re·search·ing, re·search·es
verb
intransitive
To engage in or perform research.
verb
transitive
To study (something) thoroughly so as to present in a detailed, accurate manner: researching the effects of acid rain.
To do research for: research a magazine article.
Origin of research
Obsolete French
recerche
from
recercher
to search closely
from
Old French
re-
re-
cerchier
to search
; see
search
.
Related Forms:
re·search′a·ble

adjective
re·search′er re·search′ist

noun
---
research

Noun
(countable and uncountable, plural researches)
(uncountable) Diligent inquiry or examination to seek or revise facts, principles, theories, applications, etc.; laborious or continued search after truth.
(countable) A particular instance or piece of research.
Verb
(third-person singular simple present researches, present participle researching, simple past and past participle researched)
To search or examine with continued care; to seek diligently.
(intransitive) To make an extensive investigation into.
To search again.
Origin
Early Modern French rechercher ("to examine closely"), from Old French recerchier ("to seek, to look for").
---