segment

seg·ment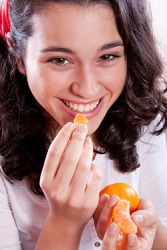 Tangerines are an excellent citrus snack because the segments can be separated easily without making a mess.
noun
The definition of a segment is a part of a whole.

An example of a segment is the part of the population that is female in comparison to the entire population as a whole.
verb
To segment is to divide something up into different parts.

When you are conducting research and you divide your subjects up into two separate groups, this is an example of a situation where you segment the group.
---
segment
any of the parts into which a body is separated or separable; division; section

Geom.

a part of a figure, esp. of a circle or sphere, marked off or made separate by a line or plane, as a part of a circular area bounded by an arc and its chord
any of the finite sections of a line

Linguis.

a phone, or single sound, in the stream of speech

Zool.

metamere
the part of an arthropod appendage between joints
Origin of segment
Classical Latin
segmentum
from
secare
, to cut: see saw
---
segment
noun
Any of the parts into which something can be divided: segments of the community; a segment of a television program.
Mathematics

a. The portion of a line between any two points on the line.

b. The area bounded by a chord and the arc of a curve subtended by the chord.

c. The portion of a sphere cut off by two parallel planes.

Biology A clearly differentiated subdivision of an organism or part, such as a metamere.
tr. & intr.v.
seg·ment·ed, seg·ment·ing, seg·ments
To divide or become divided into segments.
Origin of segment
Latin
segmentum
from
secāre
to cut
; see
sek-
in Indo-European roots.
Related Forms:
segment
---
segment

Noun
(plural segments)
A length of some object.

a segment of rope

One of the parts into which any body naturally separates or is divided; a part divided or cut off; a section; a portion.

a segment of an orange;   a segment of a compound or divided leaf

(mathematics) A portion.

(geometry) The part of a circle between its circumference and a chord (usually other than the diameter).
(topology) Any of the pieces that comprise an order tree.

(sciences) A portion.

(botany) A portion of an organ whose cells are derived from a single cell within the primordium from which the organ developed.

(broadcasting) A part of a broadcast program, devoted to a topic.

The news showed a segment on global warming.

(computing) A region of memory or a fragment of an executable file designated to contain a particular part of a program.
Verb
(third-person singular simple present segments, present participle segmenting, simple past and past participle segmented)
To divide into segments or sections.

Segment the essay by topic.
Origin
From Latin segmentum ("a piece cut off, a strip, segment of the earth, a strip of tinsel"), from secare ("to cut").
---
segment - Computer Definition

---
---