signal

sig·nal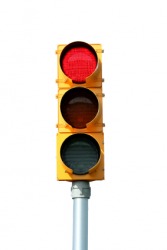 This red traffic light is a signal to stop.
adjective
Signal means out of the ordinary or remarkable.

An example of signal used as an adjective is the phrase a "signal win" which means a team that usually loses has just won.
noun
The definition of a signal is a message or means of communicating a message.

An example of a signal is a red light.
verb
To signal is defined as to communicate or indicate.

An example of signal is to hold up one finger to mean you'll be there in a minute.
---
signal
Now Rare

a token or indication
a sign or event fixed or understood as the occasion for prearranged combined action: a bugle signal to attack
anything which occasions a certain action or response

a sign given by gesture, sound or call, flashing light, etc.
an object or device, as a red flag, flashing light, etc., providing such a sign

in some card games, a bid or play designed to guide one's partner
in radio, television, cell phones, etc., the electrical impulses, sound or picture elements, etc. transmitted or received
[pl.]

Football

code words, numbers, etc. called out, esp. by the quarterback, to indicate which play or defense to use next
Origin of signal
Old French from Vulgar Latin
signale
from neuter of Late Latin
signalis
from Classical Latin
signum
, a sign
not average or ordinary; remarkable; notable
used as a signal or in signaling
transitive verb
-·naled

or

-·nalled

,

-·nal·ing

or

-·nal·ling
to make a signal or signals to
to make known or communicate (information) by signals
to make a signal or signals
---
signal
noun
a.

An indicator, such as a gesture or colored light, that serves as a means of communication. See Synonyms at

gesture

.

b. A message communicated by such means.

Something that incites action: The peace treaty was the signal for celebration.
Biology A physical entity, such as a chemical or an electromagnetic wave, that activates a cell receptor and elicits a specific response.

a. Electronics An impulse or fluctuating quantity, as of electrical voltage or light intensity, whose variations represent coded information.

b. Computers A sequence of digital values whose variations represent coded information.

The sound, image, or message transmitted or received by means of telecommunications.
adjective
Notably out of the ordinary: a signal feat; a signal event.
verb
sig·naled, sig·nal·ing, sig·nals,
or
sig·nalled
sig·nal·ling
verb
transitive
To make a signal to: I signaled the driver to proceed.
To relate or make known by signals: They have signaled their willingness to negotiate.
To cause an effect in (a cell) by the activation of a receptor, as by a neurotransmitter or hormone.
verb
intransitive
To make a signal or signals.
Origin of signal
Middle English
from
Old French
from
Medieval Latin
signāle
from neuter of
Late Latin
signālis
of a sign
from
Latin
signum
sign
; see
sign
.
Related Forms:
sig′nal·er sig′nal·ler

noun
---
signal

Noun
(plural signals)
A sign made to give notice of some occurrence, command, or danger, or to indicate the start of a concerted action.
An on-off light, semaphore, or other device used to give an indication to another person.
(of a radio, TV, telephone, internet, etc) An electrical or electromagnetic action, normally a voltage that is a function of time that conveys the information of the radio or TV program or of communication with another party.

My mobile phone can't get a signal in the railway station.

A token; an indication; a foreshadowing; a sign.
Useful information, as opposed to noise.
(computing, Unix) A simple interprocess communication used to notify a process or thread of an occurrence.
Verb
(third-person singular simple present signals, present participle signalling (UK) or signaling (US), simple past and past participle signalled (UK) or signaled (US))
To indicate.
Adjective
(not comparable)
Standing above others in rank, importance, or achievement.

a signal exploit; a signal service; a signal act of benevolence
Origin
From Old French segnal, seignal or Medieval Latin signāle, noun use of the neuter of Late Latin signālis, from Latin signum.
---
signal - Computer Definition

An electromagnetic impulse or wave transmitted to convey information in telecommunications, telegraphy, television, radio, radar, etc.
---
Any electrical or light pulse or frequency whether in a wire or fiber or wireless. The term is somewhat generic and may refer to virtually anything that is generated and transmitted (power, data, control signals). Although the term may be used by itself later on in a description or article, it is often used at least initially with another word, such as "carrier signal," "data signal" or "control signal." See signal-to-noise ratio and control signal. Signal Vs. Signaling A "signal" can refer to a data signal or a control signal, but "signaling" refers to transmitting only control signals. It is very common to hear the term in the telecom industry, where "signaling" means setting up and breaking down a call, but does not refer to the actual pulses or frequencies of the data (voice, text, etc.) itself (see SS7 and signaling).
---