slick

slick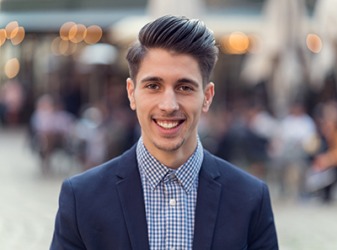 Joe wanted a slick hairstyle because he thought it made him look more mature and professional.
adjective
The definition of slick is something glossy, smooth, slippery or oily.

An example of slick is an asphalt road just after the first rain of the season.
verb
Slick is defined as to smooth or make glossy.

An example of to slick is using hair grease to create a pompadour style.
---
slick
to make sleek, glossy, or smooth

Informal

to make smart, neat, or tidy: usually with up
Origin of slick
Middle English
slikien
from Old English
slician
, to make smooth, akin to Old Norse
slikr
, smooth from Indo-European an unverified form
(s)leig-
, slimy, to smooth, glide from base an unverified form
(s)lei-
: see slide
sleek; glossy; smooth
slippery; oily: said as of a surface
accomplished; adept; clever; ingenious

Informal

clever in deception or trickery; deceptively plausible; smooth: a slick alibi

Informal

having or showing skill in composition or technique but little depth or literary significance: a slick style of writing

Slang

excellent, fine, enjoyable, attractive, etc.
Origin of slick
ME
slike
< the v.
a smooth area on the surface of water, as resulting from a layer of oil
an oily layer on the surface of water
a slippery, oily area on the surface of a road

something used for smoothing and polishing, as any of various tools with broad, flat blades

Informal

a magazine printed on paper with a glossy finish
smoothly, cleverly, deftly, easily, etc.
---
slick
adjective
slick·er, slick·est
Smooth, glossy, and slippery: sidewalks slick with ice.
Deftly executed; adroit: "A jockey occasionally won a four-mile heat with a slick maneuver" ( John Eisenberg )
Confident and effortlessly effective, especially in being persuasive: a slick political insider.
Superficially attractive or plausible but lacking depth or soundness: a slick writing style.
Slang Excellent; wonderful.
noun
A smooth or slippery surface or area.

a. A floating film of oil.

b. A trail of floating material: a garbage slick.

An implement used to make a surface slick, especially a chisel used for smoothing and polishing.
Informal A magazine, usually of large popular readership, printed on high-quality glossy paper.
A smooth, treadless tire, often used for racing.
Slang An unarmed military aircraft, especially a helicopter.
transitive verb
slicked, slick·ing, slicks
To make smooth, glossy, or oily.
Informal To make neat, trim, or tidy: slicked themselves up for the camera.
Origin of slick
Middle English
slike
from
Old English
slice
; see
lei-
in Indo-European roots.
V.,
Middle English
sliken
from
Late Old English
-slīcian, -slécian
(
in
nīgslécod
freshly smoothed
)
Related Forms:
---
slick

Proper noun
A term of address, generally applied to males, possibly including strangers, implying that the person addressed is slick in the sense of "sophisticated", but often used sarcastically.

That was a great move locking your keys in the car, Slick.
Don't you look good tonight, Slick!
---
slick - Computer Definition
---