spider

spi·der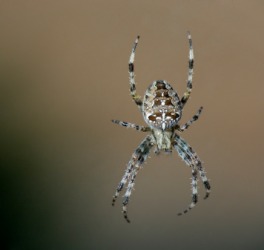 The spider is an example of an arachnid.
noun
The definition of a spider is a small creature with eight legs and two fangs that makes webs, nests and cocoons out of the silk that it produces.

An example of a spider is the character Charlotte from the story Charlotte's Web.
An example of a spider is the black widow.
---
spider
any of an order (Araneae) of small, chiefly land arachnids having a body composed of a cephalothorax bearing the legs and an abdomen bearing two or more pairs of spinnerets that spin the silk threads from which are made nests, cocoons for the eggs, or webs for trapping insects
a cast-iron frying pan, originally one with legs for use on a hearth
any of various devices or frameworks with several leglike extensions
Origin of spider
Middle English
spithre
from Old English
spithra
from an unverified form
spinthra
from
spinnan,
to spin
---
spider
noun
Any of numerous arachnids of the order Araneae, having a body divided into a cephalothorax and an abdomen, eight legs, two chelicerae that bear venom glands, and two or more spinnerets that produce the silk used to make nests, cocoons, or webs for trapping insects.
One that resembles a spider, as in appearance, character, or movement.
A program that automatically retrieves webpages and follows the links on them to retrieve more webpages. Spiders are used by search engines to retrieve publicly accessible webpages for indexing, and they can also be used to check for links to webpages that no longer exist. Also called crawler . Also called search bot .
New England, Upper Northern, & South Atlantic US See frying pan.
A trivet.
Origin of spider
Middle English
spither
from
Old English
spīthra
; see
(s)pen-
in Indo-European roots.
---
spider

Noun
(plural spiders)
Any of various eight-legged, predatory arthropods, of the order Araneae, most of which spin webs to catch prey.
(Internet) A program which follows links on the World Wide Web in order to gather information.
(chiefly Australia and New Zealand) A float (drink) made by mixing ice-cream and a soda or fizzy drink (such as lemonade).
(slang) A spindly person.
(slang) A man who persistently approaches or accosts a woman in a public social setting, particularly in a bar.
(snooker, billiards) A stick with a convex arch-shaped notched head used to support the cue when the cue ball is out of reach at normal extension; a bridge.
(cooking) A cast-iron frying pan with three legs, once common in open hearth cookery. They were generally called spiders both in England and in America.
(cooking) Implement for moving food in and out of hot oil for deep frying, with a circular metal mesh attached to a long handle.
A part of a crank, to which the chainrings are attached
(slang) Heroin (street drug).
(music) Part of a resonator instrument that transmits string vibrations from the bridge to a resonator cone at multiple points.
Verb
(third-person singular simple present spiders, present participle spidering, simple past and past participle spidered)
(Internet, of a computer program) to follow links on the World Wide Web in order to gather information.

The online dictionary is regularly spidered by search engines.
Origin
From Middle English spithre, from Old English spÄ«der, spīþra ("spider"), from Proto-Germanic *spinþrô ("spider", literally, "spinner"), from Proto-Indo-European *(s)pend-, *(s)pen- ("to pull, stretch, spin"). Cognate with Scots spider ("spider"), West Frisian spin ("spider"), Dutch spin ("spider"), German Spinne ("spider"), Danish spinder ("spinner, spider"), Swedish spindel ("spider"). More at spin.
---
spider - Computer Definition

An automated program that reads Web pages from a Website and then follows the hypertext (HTTP) links to other pages. Spammers use spiders to sift through Web pages to look for (that is, harvest) email addresses.
See Also: Bot or Robot; Electronic Mail or Email; HTTP (HyperText Transfer Protocol); Spammers.
---
(1) Also known as a "crawler," "robot" (bot) and "intelligent agent," a spider is a program that searches for information on the Web. Spiders are widely used by Web search engines to index all the pages on a site by following the links from page to page. The search engine summarizes the content and adds the links to their indexes. Spiders are also used to locate Web pages that sell a particular product or to find blogs that have opinions about a product. See surface Web and bot.
(2) Software that indexes a single website for browsing offline. See offline browser.
(3) (Spider) A gaming platform from AMD. See Phenom.
---