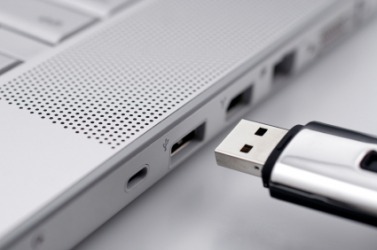 A USB device being inserted into a USB port.
abbreviation
USB is defined as an acronym that stands for Universal Serial Bus which is a type of computer port which can be used to connect equipment to a computer.

An example of a USB is the interface used to upload pictures from a digital camera to a computer.
---
USB
Universal Serial Bus: used to designate a kind of standard interface for connecting peripherals to a computer
---
USB
noun
Computers
A serial bus standard used for transferring data to and from digital devices. USB devices such as mice and flash drives are often powered by their USB connection.
Origin of USB
U(niversal) S(erial) B(us)
---
usb - Computer Definition

A serial bus with a data transfer rate of 12 Mbps for connecting a microcomputer to peripherals such as keyboards, mice, printers, and digital cameras through a single, general purpose port. USB is a considerable improvement over the RS-232 interface, but does not compare favorably with IEEE 1394, also known as FireWire in the Apple computer domain. See also 1394, bus, FireWire, IEEE, microcomputer, peripheral, port, RS-232, and serial.
---
(1) Short for "USB flash drive" or "USB port." See USB drive and USB port.
(2) (Universal Serial Bus) The most widely used hardware interface for attaching peripherals to a computer. There are at least two USB ports on laptops and four on desktop computers, while USB "hubs" provide more connections (see below). After appearing in 1997, USB became the standard for connecting keyboards, mice, printers and hard drives, eventually replacing the PC's serial and parallel ports and the Apple Desktop Bus on Macs (see serial port, parallel port and ADB). Supporting 127 peripheral units on a single computer, devices can be plugged and unplugged while the computer is on, although a manual "eject" is required before removing. This "hot swappable" feature, combined with easy-to-reach ports on the front of the computer case, gave rise to the ubiquitous flash drive for transport (see USB drive). See PoweredUSB, USB device class, USB OTG, USB switch and USB toy.
Transfer Rate
Version (Year) (Mbps)
USB 1.1 (1998) 1.5 & 12 (1.5 Mbps slow channel for keyboards, mice, etc.) USB 2.0 Hi-Speed (2001) 480 USB 3.0 SuperSpeed (2008) 4800 (see
USB 3.0
) USB 3.1 (2014) 9600 (see
USB 3.1
)
---