yahoo

ya·hoo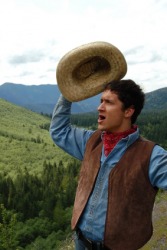 A cowboy yells, "yahoo!"
interjection
Yahoo is defined as a exclamation of joy or excitement.

An example of Yahoo used as an injection is in the sentence, "Yahoo! I just won first place!" which means "Woohoo! I just won first place!"
noun
Yahoo! is a website that offers a search engine and other features, or a yahoo is a person who is coarse or unrefined in style.

An example of Yahoo! is the website that includes a search engine, instant messaging, chat groups and e-mail.
An example of yahoo is the race of fictional brutish creatures in Swift's Gulliver's Travels.
---
yahoo
Slang
used to express joy, delight, triumph, etc. with great excitement
Yahoo
in Swift's Gulliver's Travels, any of a race of brutish, degraded creatures subject to the Houyhnhnms and having the form and all the vices of man
[y-] a person who is variously thought of as being coarse, uneducated, unrefined, anti-intellectual, crudely materialistic, etc.
---
yahoo
noun
pl.
ya·hoos
An unrefined and often loud or disruptive person. See Synonyms at
boor
.
Origin of yahoo
From
Yahoo
, member of a race of brutes in Gulliver's Travels by Jonathan Swift
Related Forms:
interjection
Used to express exuberance or delight.
Origin of yahoo
Imitative
---
yahoo

Noun
(plural yahoos)
A loud boisterous person.
A derogatory term for a white person from the Confederate South (i.e., United States).
(cryptozoology) A humanoid cryptid said to exist in parts of eastern Australia, and also reported in the Bahamas.

1835: The natives are greatly terrrified by the sight of a person in a mask calling him "devil" or Yah-hoo, which signifies evil spirit. "" James Holman, Travels, 1835 (quoted by Malcolm Smith, above)
1985: Yahoos in the Bahamas "" title of paper by Michael Raynal, Cryptozoology, volume 4, 1985
Interjection
An exclamation of joy.
A battle cry.
Origin
From Gulliver's Travels by Jonathan Swift: the name of a race of brutes.
The Australian sense almost certainly derives from Gulliver's Travels, despite Holman's report (quote below), since the sound "H" does not occur in aboriginal languages, only in words learnt or adopted from Europeans. (Reference: Bunyips and Bigfoots, Malcolm Smith, Millenium Books, 1996, ISBN 1-86429-081-1.)
Origin
Coined by Jonathan Swift in Gulliver's Travels.
Noun
(plural Yahoos)
(informal) An employee of the Internet company Yahoo!.
---
yahoo! - Computer Definition

A Web directory developed in the early 1990s by Stanford graduate students David Filo and Jerry Yang. Yahoo! has expanded into a full-featured Web portal, including a search engine, chat groups, instant messaging (IM), and e-mail. The word Yahoo was coined by Jonathan Swift in his book Gulliver's Travels (1726), referring to a race of foul, uncultivated, loutish, brutish creatures in the form of men. The term has since evolved to refer to a coarse, unrefined, unruly, crudely materialistic person. Filo and Yang reportedly selected the name because they considered themselves yahoos. See also endianess.
---
(Yahoo, Sunnyvale, CA, www.yahoo.com) The most diversified information portal on the Web. Along with search, news, sports and weather, Yahoo offers e-mail, instant messaging, travel, auctions, classified ads, financial data, discussion groups, Web hosting and numerous other services. It Began with Search When it launched in 1995, Yahoo was the first Web search site to gain worldwide attention. It distinguished itself in the early days because it created its indexes manually. Instead of sending out automated spiders that roamed the Web and indexed everything in sight, indexing specialists decided what categories a Web page fit in. As a result, Yahoo called itself a "directory," rather than a search engine. As the Web grew exponentially, it became too large to index manually, and Yahoo employed automated methods. A Student Hobby In 1994, Stanford Ph.D candidates Jerry Yang and David Filo began indexing interesting websites as a hobby. "Jerry and David's Guide to the World Wide Web" turned into Yahoo, meaning "Yet Another Hierarchical Officious Oracle!" A very successful IPO followed in 1996, and within a few years, Yahoo became a major global brand worldwide. A Tumultuous History Valued at USD $67 billion prior to the dot-com bust, Yahoo began to slide ever since. Although Microsoft offered $44 billion to buy the company in 2008, the offer was refused. Eight years later in 2016, Verizon announced its acquisition of the company for $5 billion.
---